Lithuania Backs Georgia's NATO Bid
By Gvantsa Gabekhadze
Wednesday, September 14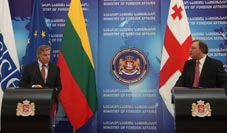 Georgia deserves a strong, positive signal regarding NATO membership the Lithuanian Foreign Minister and current OSCE chairperson Audronius Azubalis stated after his meeting with his Georgian counterpart, Grigol Vashadze, on September 13.
"Georgia is worthy of such a signal as Georgia has made a significant contribution to international peacekeeping missions. NATO member states must assure other countries that Georgia will become a member of the alliance," the Lithuanian minister said adding that it was unfortunate that the OSCE no longer functions in Georgia but that plans were afoot to create a similar organization that could operate in Georgia.
Azubalis also mentioned that starting talks on free trade between Georgia and the EU should be a priority. "Georgia has chosen the right strategy regarding the European Union. Conducting negotiations with the EU on the simplification of the visa regime is very significant. We want to also encourage the member states of the EU to sign a memorandum on free trade with Georgia."
Lithuania's support regarding Georgia's membership of NATO and the EU is important for the country especially as "2012 will be a very difficult year in the sphere of diplomacy," Georgia's Minister of Foreign Affairs, Grigol Vashadze, stated. Officials in Tbilisi concurred saying that such supportive statements show that Georgia is ready for NATO membership. "We have worked a lot for that in recent years. I can state it boldly today: Georgia actually meets all the requirements which can be put before a [NATO membership] candidate country," parliament speaker, Davit Bakradze, said, mentioning that "the Bucharest commitments clearly state that Georgia will become a NATO member, so, we believe that the situation is ripe now to think about further steps."
Bakradze, however, also added, that decisions of this type "are not taken fast and easily."
"We will try to speed up this process. We hope that the visit of the [NATO] Secretary General and a session of the NAC [North Atlantic Council] in Tbilisi will help us to speed up this process in order to achieve our goal soon."
A representative of the opposition party the Free Democrats, Viktor Dolidze, told
The Messenger
that military reform is not enough for getting strong signals from NATO. "I am thankful to the Lithuanian Foreign Minister for his supportive statements towards Georgia, however, there are a lot of other economic, political and democracy related issues that the organization pays attention to," Dolidze said and added that such positive signals from NATO were possible only if upcoming elections in Georgia are held democratically and if there is a transfer of power through free and impartial elections. He also commented on the creation of an organization similar to the OSCE in Vienna and mentioned that "it will be better if some kind of international watchdog is launched in Georgia, which could monitor different significant issues, like democratic development, human rights protection and so on. However, I am doubtful the current authorities will agree to its establishment especially when elections are coming up in the country."
The analyst Ramaz Sakvarelidze said that the visit of NATO's General Secretary to Georgia would better clarify what signals should be expected from the organization, "however, those demands which were raised by the organization as preconditions for Georgia's participation are still unfulfilled, like reform of the courts," Sakvarelidze told The Messenger. He mentioned that an organization similar to the OSCE was a real possibility, as earlier the OSCE mission left Georgia due to a Russian veto of its activities. In a newly-formed organization however, if it is created as foreseen, Russia would have no right to veto.