Tbilisi City Hall Accused of Wasting Money
By Salome Modebadze
Friday, September 16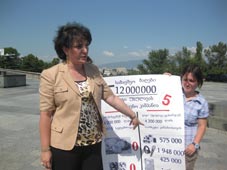 Tina Khidasheli, member of Tbilisi City Council from the Republican Party accused Tbilisi Mayor's Office of wasting budget resources on a pre-election campaign. According to the database of the State Procurement Agency, Tbilisi City Hall announced an electronic tender for various materials necessary for concerts planned in 2011-2012. Several open and covered scenes, multi-level tribunes, special platforms, backstage, catwalks, background constructions and scenic castles are all in the list of City Hall's tender announcement released by Khidasheli.
"It is obvious to everyone that a year before the parliamentary elections the Mayor's Office is trying to financially support their party and candidates with budgetary resources," Khidasheli said supposing that these concerts would become a part of United National Movement's (UNM) pre-election campaign. Disappointed with the abolition of the "successful project" of free kindergartens Khidasheli wondered why City Hall had not given any explanations about the necessity of reducing the budget for this. Suspecting that City Hall plans to provide all the concert materials with the 4.2 mln GEL previously ringfenced for kindergartens, the councilor requested the Mayor's Office publish the official schedule of the activities they plan to hold, the purpose of such events, and justify their necessity.
Promising to raise this issue at the nearest City Council sitting, Khidasheli also mentioned how the Mayor's Office has recently increased the costs of social services for the citizens of Tbilisi. "The cost of water provision, all kind of transport and payment for removing domestic garbage have been all raised under City Hall's initiative, while state-funded kindergartens are no longer free from this year," the councilor said.
Property Management and Finance Budget Commission Chairman, Tamaz Shoshiashvili, accused Khidasheli of spreading disinformation and confusing citizens. The UNM MP denied any connections between the kindergartens and concerts explaining that GEL 1,948,000 was under consideration by City Hall for hosting high-ranked guests as well as organizing various nation-wide events and festivals. "All this has no connection with the 2012 elections and Khidasheli like other citizens of Georgia would have access to the expenses for pre-election campaign," the MP stated. Emphasizing the "social fairness" of imposing payment at kindergartens Shoshiashvili explained that children from poor families would be financed by the government, middle families would have co-sponsorship while the rich families would pay on their own.
Economist analyst Gia Khukhashvili disapproved of "the rules of the game" through which the Georgian government is trying to create "a virtual reality of welfare". Talking of the "unwise expenditure of people's money" on various events and festivities, Khukhashvili worried about the social conditions ordinary citizens are facing nowadays. "Unfortunately the state budget in our country is always used for political reasons, as the officials prefer creating a virtual reality instead of facing real problems," the analyst told
The Messenger
.