New National Defense Academy Opens
By Ernest Petrosyan
Monday, September 19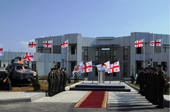 "Russia's collapse will be inevitable if it continues its current occupation and aggressive policy towards Georgia by means of 19th century methods," said Georgian President Mikheil Saakashvili to soldiers on September 16. The president was attending an opening ceremony of a new complex for the Ministry of Defense's National Defense Academy which was destroyed by the Russian Army in the 2008 August war in Gori.
"The invader, which intervened in Georgia three years ago, annihilated this military base, we, however, restored the base and built an even better military academy, one similar to which Georgia has never had throughout its history," said Saakashvili.
Saakashvili noted that several kilometers from Gori the occupying Russian Army set up a military foothold in Georgia. "But let's have a broader look. This place [Shida Kartli region, which under Georgia's official administrative division also involves breakaway South Ossetia] is the heart of Georgia," he said.
"There are not enough fingers to count all the invaders who thought throughout Georgia's history that they had invaded this land and extinguished the existence of Georgia. Furthermore, many of the empires which invaded Georgia disappeared but Georgia turned out to be the eternal," the president continued.
"The Russian empire is in fact in very difficult situation, if their crises continue, and if they continue to carry on their occupation policy complete collapse will be inevitable - as happened with the Seljuks during the reign of David the Builder, then the Mongols, the Ottoman Empire, and even the much stronger Persian Empire."
Saakashvili nonetheless said that that Russia's collapse will not solve "our problems in themselves," because, as he stated, based on historical experience Georgia knew, "one invader was then replaced by another and accordingly problems changed."
Responding to the accusations of Georgian politicians regarding the politicization of the police and army the president said that this was not true of either institution. "The issue is that some politicians oppose this country's statehood, rather than a particular government, particular president or political orientation. When one deals with the country's enemy one is opposing Georgia and not Georgia's president," said Saakashvili adding that there are some "accepted major principles, such as "one should not lick the enemy's boot."
In his speech Saakashvili also emphasized the concept of "strategic patience." "We also know very well that we need strategic patience – that's what we've learned from our history".
Calling on the Georgian authorities to exercise this "patience" in respect of the breakaway regions is part of US policy; as one senior US diplomat once explained the approach implies Georgia showing itself "to be an attractive place, a stronger, democratic" country.
The newly opened National Military Academy complex in Gori consists of military barracks, dining and conference rooms, sport and entertainment centers including a swimming pool, educational block, library, infirmary and administrative building. According to the defense officials it is the most modern academy in the region.
Academy graduates will hold a Bachelor's Degree and the military rank of Lieutenant. The institution will prepare officers for the infantry, engineering, logistics, mechanized divisions, artillery, aviation, air defence and communications specializations.
Bachelor's programs envisage the Technical Sciences School offering specialization in the building of airdromes and highways, and information technologies. The Business and Management School will offer attendees to major in general management, logistics and expediting.
On top of this, the Academy will have a Master's Department. The National Defence Academy also plans to send excellent students to internationally renowned higher education institutions under an exchange program. According to the Ministry of Defense it will fully cover the cost of such education exchange.