IDPs Produce Uniforms for Schoolchildren
Monday, September 19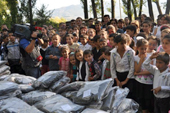 On 15 September, a representative of United Nations High Commissioner for Refugees (UNHCR) Georgia, Ms Simone Wolken, attended the distribution of school uniforms to 220 pupils of Mereti Public School. The uniforms were produced under the project "New Employment Opportunities for IDPs in Shida Kartli."
The project is being funded in 2011 by the US State Department in cooperation with the UNHCR and implemented through UNHCR's Implementing Partner Institute for Regional Development-Shida Kartli (IRD-SK).
The first stage of the project resulted in establishing a new sewing factory in Berbuki village providing employment opportunities to 20 IDPs and persons in IDP-like situations. The outcome of the second stage of the project is manufacturing and the distribution of school uniforms to a total of 500 pupils of the three former buffer zone public schools of Shida Kartli (Khurvaleti, Pkhvenisi and Mereti).
UNHCR addresses the protection and assistance needs of around 273,000 persons of concern in Georgia which includes some 270,000 IDPs, around 550 refugees and 1,800 stateless persons. Although this is a huge number, each and every one of them has a very human story to tell. Getting back into employment is an important step for refugees and IDPs who through no fault of their own lost everything.