University Receives Norwegian Grant
By Ernest Petrosyan
Tuesday, September 20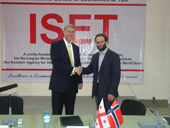 Norwegian Ambassador to Georgia, Erling Skjensberg, signed a NOK 3,000,000 [slightly more than USD 500,000] grant memorandum with Ivane Javakhishvili Tbilisi State University (TSU) Rector Alexander Kvitashvili and International School of Economics Executive Director Eric Livny (ISET) on September 19. The funding for ISET will be aimed at establishing new faculties, namely to develop the environment and energy efficiency fields which, from next academic year, will be available for ISET students.
Later, Ambassador Skjensberg conducted a lecture with students about the environment and energy efficiency issues. "Norway has the highest hydro power production per capita in the world, and in absolute terms of hydro power production we are number one in Europe and sixth in the world. Georgia also has good prospects as regards hydro energy development," said Ambassador Skjensberg.
Kvitashvili assessed the ISET project as the most successful and effective project completed with TSU. "We would not be able to implement this project without several donors, one of them is the Norwegian government to whom we are very grateful," told Kvitashvili.
Speaking about ISET Livny told the ambassador, "we have advanced infrastructure, which is by far one of the best in the region. The curriculum is also international; it is not Georgian economics or Azeri economics it is international economics the way it is taught is global. ISET provides good opportunities for its students, namely scholarships, exchange programs, and the best students even receive stipends."
ISET was established on the initiative of Zurab Zhvania in 2005. The project was launched with the financial support of BP, the World Bank, the Norwegian Foreign Ministry Fund, Open Society Institute, Swedish Agency for International Development and Cooperation, and the Georgian government.