Women From Across the South Caucasus Mark International Day of Peace
Friday, September 23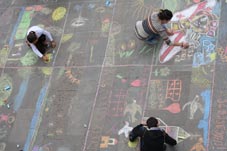 Women from across the entire South Caucasus region are marking the 30th anniversary of the International Day of Peace on 21st September. The action was marked by CARE's partner human rights organisations working directly with men and women from conflict-affected areas across the region. To mark this anniversary, CARE's regional partners planned various activities.
IDP Women's Association 'Consent'
, held five concurrent children's drawing competitions at Vake Park in Tbilisi, as well as in four conflict-affected communities that Consent has been working with. Children participating in the competition shared their vision of peace using coloured chalk on the pavements in the various venues.
The Association of Women of Abkhazia
, would run essay competitions among school children in the four conflict-affected communities: the towns of Gali and Ochamchira and the villages of Baslahuba and Chuburkhindzh while
The Armenian Committee of the Helsinki Citizen's Assembly
will mark the celebration on the weekend of 24th-25th September. On 24th September, local activists will open a school library in the village of Hachik. The event will be marked by a concert and a exhibition of drawings on the theme of peace. On 25th September there will be an opening of a town square in the city of Sisian, together with an exhibition of handicrafts and a concert.
The Women's Problems Research Union
of Azerbaijan will be holding a children's drawing competition in the city of Barda, the settlement of Zobujug and the compact displaced persons settlement of Pirshagi where the competition will also be accompanied by an exhibition of photographs on the topic of peace.
The Centre for Civilian Initiatives
will hold a round table on the theme of peace and show the film "To see if I was smiling", on the subject of women in war, followed by discussion of two short stories by the writer Ashot Beglaryan.
In addition, in the entire target regions partner organizations will announce an essay competition for students of higher education establishments on the subject "How would the South Caucasus look if there was equality between men and women?" The winner of the competition will be announced on 31st October, on the 11th anniversary of the adoption by the United Nations Security Council Resolution 1325 on Women Peace and Security. The Resolution calls for greater inclusion of women in the prevention of conflicts, in post-conflict planning and reconstruction and for greater protection of women conflict and post-conflict settings.