New Ballet Season Opens
By Messenger staff
Friday, September 23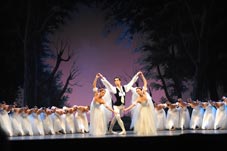 The 160th season of the Georgian Ballet opened with a premier at the Alexander Griboedov State Russian Drama Theatre on September 22. The season includes the ballets
Chopiniana
lead by prima-ballerina Nino Ananiashvili,
a Wingless Flight into the Darkness
choreography by Teet Kask and
Sagalobeli
by Yuri Possokhov, all of which received great public applause. This occasion also marked the beginning of the 6th ballet season of the
Friends of the Georgian Ballet
, an association created by Mariella Tefft in 2006 and brilliantly directed by her until the end of May 2009 when the chair was passed on to the equally dedicated and talented Elvira Pietraroia Sandalli who directed the organization until July of this year.
By taking a wonderful opportunity to support Georgian ballet Michele Dunn and Sarah Williamson Chirakadze, Co-Cairwomen of the
Friends of the Georgian Ballet
encouraged and supported young Georgian artists in the pursuit of their dreams with Nino Ananiashvil Artistic Director of the Georgian Ballet preserving one of the true gems of culture in Georgia. Last year renovation of the Opera House forced the Georgian Ballet to find other venues in which to perform and rehearse, making it more difficult for friends and fans to enjoy and support their art. But the Georgian Ballet continued performing their full schedule in Tbilisi maintaining their rigorous rehearsal routine in preparation for their busy international tour schedule. The Ballet also traveled throughout Georgia giving complimentary performances in Gori, Poti and Kutaisi giving their time and talent.
Friends of the Georgian Ballet
has played an integral role in the development of young artists. Seven promising pupils of the Choreographic School were recognized and awarded scholarships during this year. For the third consecutive year, they have sponsored four young artists of the State Ballet of Georgia to attend the well-known summer program "Bournonville in Biarritz". The students represented Georgia and the Ballet Company at the highest level, receiving commendations for their artful technique, personal dedication and values. Three of the four students were awarded full scholarships for next summer by the Bournonville in Biarritz Academy. Friends of the Georgian Ballet also proudly awarded one-year scholarships to the Chabukiani Choreographic School to six talented children for the 2010-2011 school year.