Saakashvili Meets Heads of State in New York
By Salome Modebadze
Friday, September 23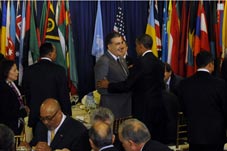 Georgian President Mikheil Saakashvili met with the US President Barak Obama at the 66th UN General Assembly Session in New York. The meeting was held in an informal environment at a lunch held on behalf of the UN Secretary General Ban Ki Moon where the two presidents spoke about relations between their two countries. Saakashvili also met with the leaders of other UN member countries where the sides discussed the prospects of their states. Sharing experiences with his Kyrgyz counterpart, Rosa Otunbaeva, the Georgian president talked about the successful reforms in Georgia.
Welcoming changes to the judiciary and law enforcement system the Georgian and Kyrgyz leaders also focused on the necessity of improving the educational system and agreed to deepen cultural cooperation. Saakashvili and the Swiss president Michelin Kalmi-Rey discussed the issue of increasing Switzerland's role as mediator in Georgian-Russian relations and Russia's prospects of receiving WTO membership.
Kazakh President Nursultan Nazarbaev expressed interest towards constitutional reform carried out in Georgia. Mikheil Saakashvili explained that Georgia would have a parliamentary government which means that Georgia will have a president but real power will be handed over to the parliament. "There will be a president, a powerful parliament and government," Saakashvili stated. As the Kazakh president told journalists after the meeting, Georgia and Kazakhstan always had good political and economic relations. 'Our countries do not have any problems in our relationship. There are good economic relations between us. We are supplying Tbilisi with gas while Batumi port is owned by the Kazakh Oil Company," Nazarbaev said.
In a speech before the 66th session of the UN General Assembly on Wednesday Estonian President Toomas Hendrik Ilves stated that while focusing on the pertinent issue of the present leaders "must not shy away from addressing the unresolved issues of the recent past" and along with Afghanistan he raised Georgia, saying that it "is another country that continues to require our attention." "The 2008 war ended with the violation of Georgian territorial integrity, a fundamental violation of international law that remains unresolved to this day," said the Estonian president arguing for the fulfillment of fundamental principles of international law by all members of the international community.
Talking of Georgia as a country which successfully meets all international standards, the Estonian president worried that its territories remain occupied and called for support for the Geneva international negotiations and the intensive involvement of the UN in this process.