Netherlands and Georgia Cooperate on Environment in Adjara
Monday, September 26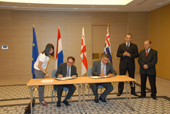 The grant agreement for the implementation of the project, the Development of the Spatial Planning Scheme for the Autonomous Republic of Adjara has been signed by the Ambassador of the Netherlands in Georgia and the Adjara government within the framework of ongoing bilateral cooperation in the environmental field between the two countries.
The total project budget is 500,000 euro and consists of the following elements: the preparation of terms of references, the setting up of a spatial and land use planning system and general implementation of the project.
Being one of the fastest growing regions of Georgia, it is of vital importance to have such a planning scheme, especially from an environmental prospective.
Netherlands-Georgia cooperation in the environmental field has stood for 10 years. As a result of this bilateral cooperation, a Memorandum of Understanding was signed between the two countries in 2008. Many joint projects and programs have been conducted since then and some are being implemented now or are in the pipeline for the coming years.