Conference in Kazakhstan Promotes Green Economy
By Etuna Tsotniashvili
Monday, September 26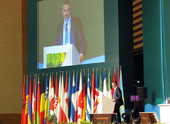 On September 21-23, Kazakhstan's capital Astana hosted the seventh "Environment for Europe" Ministerial Conference to discuss water issues and 'greening' the economy. The ministerial conference, organized by the United Nations Economic Commission for Europe (UNECE) in cooperation with the government of Kazakhstan, brought together delegates from 53 countries across the pan-European region as well as delegates from the United States, Canada and Israel.
The head of the Georgian delegation, Minister of Environmental Protection Goga Khachidze delivered a speech on September 21 and talked about the ongoing and future activities implemented in the field of the environment, government policy and priorities in this area.
"Georgia considers the Environment for Europe process to be an efficient political framework for co-operation between the EU and non-EU member states within the UNECE region. We very much appreciate that the initiative brings clear benefits for the countries of Eastern Europe, including the Caucasus, and Central Asia through the enhancement of environmental cooperation and capacity building activities resulting in specific actions in the field of environmental protection across the pan-European region," Khachidze stated. He went on to highlight "radical reforms" which have been implemented in several key sectors of the Georgian economy, identifying the goals and objectives in promoting a greener economy.
According to the minister, renewable energy sources, as one of the most prominent green economy indicators, are promoted by Georgia. "The State Program on Renewable Energy was approved in 2008, the main goal of which was to boost the construction of new renewable energy sources in Georgia. As a result more than 88 percent of electricity production in Georgia comes from renewable sources," he said.
Another area which the minister highlighted was climate change and the steps taken in combating it. "Tbilisi, the capital of Georgia, has joined the "Covenant of Mayors Initiative of the European Union" to significantly reduce greenhouse gas emissions," Khachidze said adding that Tbilisi's Sustainable Action Plan consists of activities in various sectors such as transport, municipal and residential buildings, landfills, wastewater handling systems, street lighting, and geothermal hot water supply.
The minister also talked about green transportation. As he told the conference participants Georgia overcame transportation problems at national and municipal levels through streamlining particular activities. "We are also launching a program that will lead to cleaner transport modes and plans to replace official traditional cars with electric ones," he added.
Khachidze emphasised sustainable management of water and stated that as Georgia is very rich in water resources, investments in the water sector will provide major economic, social and environmental returns and, therefore, can be a building block for the enhancement of green economy pathways.
The Astana Conference is the first one prepared in accordance with the provisions of the Reform Plan of the "Environment for Europe" process adopted in 2009. Marking the 20 year anniversary of the "Environment for Europe" process, Astana-2011 is expected to pave the way for strengthened pan-European cooperation on environment and sustainable development.