Saakashvili Opens New School with Disabled Access
By Gvantsa Gabekhadze
Tuesday, September 27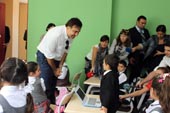 The President of Georgia, Mikheil Saakashvili, opened a new school meeting modern standards in the village of Melaani, Kakheti Region on September 26. The school has been constructed according to modern standards so that disabled children will be also able to study there as inclusive teaching is also included in the curriculum. The school has special ramps for wheelchairs for disabled children.
The school is equipped with new technology, laboratories and an English cabinet.
Mikheil Saakashvili viewed the new school and attended an English lesson of the first graders, where a foreign English language teacher was also present. It should be pointed out that English was not taught there in previous years. The president one more time underlined the importance of modern methods in the education system and the significance of technical subjects, "there are people who state that computers are harmful, however I can see no harm for those children who use them, on the contrary. Interest towards the studying process has increased and what is very important, technical subjects have become especially favored lately." The president also gave portable computers to the three best 10th grade students at the school.
Minister of Education, Dimitri Shashkin also commented stating that the totally renewed school would be a great stimulus for the pupils and modern technologies and teaching methods would play a serious role in their future development and success.
The pupils and teachers of the school thanked the authorities and expressed their happiness with the development.
After leaving the school building Saakashvili met with locals waiting for the president outside and talked with them about their problems. Locals said the village needed a new road and rehabilitation of the kindergarten.