Eastern Partnership Summit Opens
By Ernest Petrosyan
Friday, September 30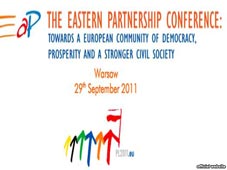 The EU opened the second Eastern Partnership (EP) summit in Warsaw on September 29. The summit is very important for Georgia due to the high expectations of Georgian officials, who are hopeful to hear statements regarding visa facilitation and association agreements with the EU. The summit is attended by representatives of the 27 EU member states, and six Eastern Partnership member countries. The EU is represented by the President of European Parliament Jerzy Buzek, President of the EU Commission, Jose Manuel Barroso, and Catherine Ashton - High Representative of the European Union for Foreign Affairs and Security Policy. Heads of state or high ranking officials will represent Eastern Partnership member countries.
The Georgian delegation is headed by President Mikheil Saakashvili, who will give a speech at the planned plenary sessions and is also supposed to hold meetings with Catherine Ashton and other officials. Among the Georgians present are Speaker of the Georgian Parliament David Bakradze and the Deputy Foreign Minister Tornike Gordadze.
Bakradze was also invited to an international conference held simultaneously with the EP summit. "The conference format was specially elaborated in order to provide politicians a freer and less official environment to talk about the further development of EU relations with its eastern neighborhood. One of the topics will be Georgia, and it will be this conference, unlike the official summit, where politicians will be able to speak more freely," Bakradze said.
In his turn, Gordadze stated that, "everybody considers Georgia one of the most successful members of the Easter Partnership. We are expecting a distinct signal about the creation of a deep and comprehensive free trade agreement zone between the EU and Georgia. We are also expecting a statement about the dates for when the negotiation process will start."
Eastern Partnership countries will meet once every two years. Decisions on launching talks on free trade by the end of the year have been made and EU representatives have spoken about this at the current summit.
According to EU officials negotiations are being held with three countries - Georgia, Moldova and Armenia. One official confided: "we have agreed most on issues with Georgia and Moldova, far less with Armenia. We'll openly speak about it in Warsaw. The negotiations will start by the end of the year".
Representatives of Georgian civil society have also been participating at the summit.
During the summit, several briefings are planned. The EU Commission President Jose Manuel Barroso, Prime Ministers of Poland and Hungary, Donald Tusk and Victor Orban, will answer journalists' questions. Some bilateral meetings of the state leaders are also scheduled.