Tbilisi City Dismisses Opposition to New Garbage Disposal Fees
By Salome Modebadze
Monday, October 3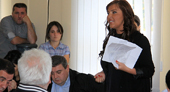 The City Council sitting ended with confrontation between the opposition and the ruling United National Movement (UNM) MPs on Friday. Opposing the attachment of a charge for domestic waste based on electricity payments, Inga Grigolia Chairwoman of the Christian Democrat Movement (CDM) faction encouraged her colleagues to abolish the decision adopted on June 24. By introducing this policy, Grigolia is worried that there will be a dramatic increase in payment for waste disposal in Tbilisi. Grigolia recollected how the garbage collection was increased from GEL 1. 75 to GEL 2.50 last December which then was finally fastened to the electricity tariff.
"Admit your mistake and cancel the decision!" the chairwoman addressed her opponents from the ruling party. Accusing Tbilisi City Court of following UNM demands, Grigolia opposed the court verdict which dismissed CDM's appeal against attaching the charge for garbage collection to the electricity payment. "Our City Court thinks that the new system of payment doesn't disturb citizens. But this fact only proves how the court is being politically biased in favour of the government and how it makes verdicts ordered by the authorities," Grigolia said, adding that people find it harder to live in Georgia under the current legislation.
CDM MP Zaza Gabunia introduced a statistical database where he shared with his colleagues the garbage collection tariffs in the top ten countries of the world. Stressing the social unfairness of the new system, Gabunia stressed how the rights of the taxpayers are being violated in our country via the imbalance between monthly salaries and domestic waste expenses in Georgia.
The UNM member MPs denied biasing the court. Proving that the new system of payment only affected the "wealthier" part of the population the chairman of the UNM faction, Niko Khachirashvili, accused CDM of "manipulation". Khachirashvili did not find it correct to judge the new taxation system. Stressing that the court is free from any bias the MP stated that "someone may definitely have increased expenses, but others – not." Koki Ionatamishvili Chairman of the Economic Development, Investment Policy and International Relations Commission added that the new taxation system is based on the "principle of social fairness". Ionatamishvili argued that only 20% of population had increased taxes, and that these are the people who earn more money thus spend relevantly more on electricity. The Georgian analysts have expressed the fact that they find this calculation completely illogical.