Go, tan-go!
By Salome Modebadze
Tuesday, October 4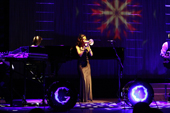 The Gotan Project finished off their world trip in Tbilisi at the Concert Hall on Sunday and expressed their happiness to play in the capital of Georgia for the first time.
Musicians Philippe Cohen Solal (French), Eduardo Makaroff (Argentine) and Christoph H. Muller (Swiss) with other special members of the group held a modern tango performance. After warming up the hall with the tango, the act offered a live disco for the energetic audience. Offering a special remix created for the Tbilisi audience, the Paris-based group encouraged their fans to come closer to the stage and dance to their music. "Don't be shy, come closer," the musicians encouraged the audience. It was really hard for Georgian fans to let such an opportunity slip.
The Ambassador of France, Erik Fournier, who also attended the concert, took the opportunity to say good-bye to Tbilisi as his term of leading the embassy is expiring. Explaining the great influence of tango music all over the world the ambassador welcomed the successful opening of the French week in Georgia. "The great French group - Gotan Project - has opened the week, while the visit of French President Nicola Sarkozy will triumphantly end it," Fournier stated.
With support of the Ministry of Culture and Monument Protection, the mobile provider Magticom, and Tagiss Art, the concert was a great opportunity to listen to the Gotan Project's 3rd studio album "Tango 3.0" live in Tbilisi.
Ani Lagidze, General Director of Tagiss Art, which organized the event, promised an unforgettable evening to everyone. After the five-year-negotiations with the group Lagidze had finally managed to persuade the Gotan Project to come and give the Georgian public an unforgettable performance. "Gotan Project is ending their world tour tonight so that Tbilisi will be the place of their last tango," Lagidze stated.