Ministry of Education Forcing Geocell Subscription on Teachers?
By Gvantsa Gabekhadze
Tuesday, October 4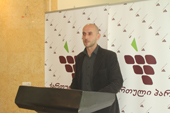 The opposition Georgian Party accused the Minister of Education, Dimitri Shashkin, of violating teachers' rights and assisting monopolies. The statement concerning the issue was made by the party press secretary, Irakli Kordzaia, on October 3.
According to Kordzaia, this year 70,000 Georgian teachers, without their consent, will be forced to become Geocell subscribers and automatically, monthly, GEL 3 will be cut from their salaries and put on their Geocell account. "Shashkin is involved in a state monopoly, almost all school directors have already been given a directive that all their teachers are to be subscribers of Geocell even though there are two more mobile operators in Georgia," Kordzaia stated.
He added that Geocell had been chosen without any tender and the reason for this, the ministry of education explained, was the necessity to simplify communication between teachers. Kordzaia underlined that the party will send an official letter to the ministry and demand an explanation of the decision in detail.
The Messenger
connected the Ministry of Education to check this information. The ministry's PR department head, Nino Potrzhebskaia, denied the information and called it nonsense. However, after talking with some teachers who say that they have really been given Geocell cards and GEL 3 is really cut from their monthly salaries, Potrzhebskaia told us that the directors might give them those cards and that she would clarify this fact. Later, she told us that "the ministry of education does not involve itself in a school's inner issues and the school itself signs contracts with some companies."
The Messenger
has tried to recheck the information with Geocell and contacted the PR representative of the company, Irma Tskitishvili. She told us that Geocell has a lot of corporate clients and it was impossible to know all them, "I can't say exactly, as I remember we have an agreement with the Ministry of Education." As she stated she has not got such information, concretely, whether Geocell with the Ministry of education really delivered the cards to the teachers or not and advised us to contact the Ministry of Education again