Future of Opposition Six in Doubt
By Gvantsa Gabekhadze
Wednesday, October 5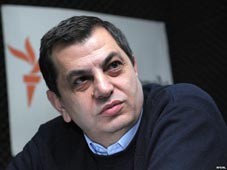 The political grouping of parties known as the Opposition Six will either turn into a political coalition or will lose any interest in a so-called 'pseudo-union', Davit Berdzenishvili, one of the leaders of the Republican Party, said on October 4. He also commented on the processes ongoing in the Opposition Six and the factors hampering the creation of a coalition.
'We wanted the Six to turn into a coalition. At first the initiation was supported inside the Six, though the situation had changed by the end of August," Berdzenishvili said.
According to him, in July they agreed to hold rallies. 'We recognized Irakli Alasania as a leader among our peers. It seems the National Forum though had an objection to Alasania's leadership', Berdzenishvili said, adding that the National Forum was not the only factor hampering setting up a coalition.
"I don't want to say that just the National Forum hampered the creation of a coalition. Alasania also failed to fulfil the function granted to him by us. The Forum and Alasania, who are communicating with each other comfortably, became the main brakes on the creation of a coalition. We are holding meetings, talking, and pretending not to have any problems. However, we have to admit that today we are closer to dissolution than to setting up a coalition," Berdzenishvili said.
However, there are issues that the Free Democrats and National Forum, two of the parties in the Six, have common attitudes on. Both those parties think that it is too early to create a political coalition from the Opposition Six. At the same time, the National Forum claims that there are a lot of issues that Opposition Six should work through and is categorically against unification. "The meetings of the Opposition Six are ongoing, there are many issues we actively consult on and the format of grouping is not concluded," Ani Mirotadze, representative of National Forum, said.
The leaders of the Opposition Six are going to meet and discuss the issue, the head of the press service for Our Georgia-Free Democrats, Vako Avaliani, told The Messenger. He said that only after this takes place will his party express its position. However, based on Alasania's earlier statements currently there are much more important issues in the country which should be solved than thinking of the creation of a political coalition. Alasania spoke about both common and individual ways of fighting and mentioned that fighting individually does not create any obstacles for also engaging in a common battle for improving the election environment in the country. "I must have my social, health and education programs. I must know how I would create work. People should see the real alternative to the current authorities and I am trying to be such an alternative – one which would be more attractive for everyone." Thus, it is difficult to say how individualism and common interests co-exist in the framework of the Opposition Six.
As the leader of the Conservative Party, Zviad Dzidziguri, told
The Messenger
, it is time all political parties united in opposition and fix its position regarding the creation of a coalition, if there is no agreement on forming a serious opposition coalition, the existence of Opposition Six will have no importance. "The Conservative Party has already declared its position that the coalition should have a common action plan, finances, a vision of the future of the state and related issues, we have already supported the idea, if some other parties have a different attitude, they must fix their position. In case there is no agreement, the Opposition Six, as it is now, has no future."
Opposition Six-related issues were one of the topic for Georgian printed media lately that report that the main disagreement between the parties over coalition was the National Forum's suggestion on "growing unification." This envisaged Levan Gachechiladze's (one of the leaders of the Georgian Party) and Kakha Kukava's (leader of Free Georgia) membership in the grouping which was rejected by the Free Democrats "due to their connection with Russia."
As the analyst Gogi Khutsishvili told
The Messenger
, he was so confused about the Opposition Six actions, that he had no desire even to comment on their actions, "it is impossible to comment on their behavior, it is unclear what they want."