Council of Europe Recognizes Russian Occupation and Calls for End
By Ernest Petrosyan
Friday, October 7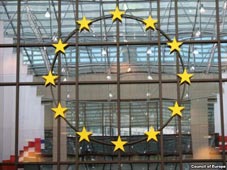 The Council of Europe's (CoE) Parliamentary Assembly calls on all member states to refrain from supporting de-facto governments of those territorial units which were separated with the interference of a third country. The CoE has developed this approach in a resolution which was approved with 79 votes to 18 at the CoE's autumn parliamentary session on October 4.
Indeed, the resolution includes the example of Georgia's breakaway regions of Abkhazia and so-called South Ossetia (Tskhinvali region) which were formed with the support of the Russian Federation in the early 1990s and later, through open intervention in August 2008 and the consequent occupation of Georgia's regions.
French MP Jean-Claude Mignon, the CoE Parliamentary Assembly President for the upcoming year, however, avoided the term "occupation" in comments to the leading TV channels, nonetheless he advocates the implementation of five resolutions related to the Russian-Georgian war and concerning Georgia's territorial integrity.
"All the recommendations and resolutions which are adopted by the CoE, should be implemented, especially by the Russian side. If a country wants to be a member of the CoE it must implement all resolutions. Georgia should be returned its lost territories", said Mignon.
The permanent representative of Georgia to CoE Mamuka Jgenti told Liberty radio, that Mignon's speech was misinterpreted by journalists. "If Mignon agrees with the adopted CoE resolutions, it means that he also agrees with the term occupation, since the resolution adopted in 2009 clearly says that Georgian territories are occupied", said Jgenti.
However, it was not only the journalists' miscomprehension. According to the Liberty radio, Mignon along with several colleagues signed a request to remove the term "occupied territories" from one of the document projects.
Georgian delegation member David Darchiashvili asked Mignon for explanations at the meeting with the European people party's group. The French MP clarified that it was a matter of misunderstanding and the Georgian regions as he stated are indeed "occupied" by Russia.
"He said that it was semantic misunderstanding, since he is French speaking and does not speak English well enough. He said that the French context was a bit different. As for my question, he confirmed that it is occupation adding that the six point agreement is not being implemented by Russia", said Darchiashvili citing the French MP.
Darchiashvili assumes that such misunderstandings are insignificant in comparison to the firm positions which are mentioned in the CoE resolutions. Such documents demand that the Russian Federation withdraw its troops from Georgia, admit international monitoring mission in conflict regions, and denounce the independence of Abkhazia and so-called South Ossetia.
Jgenti emphasized the fifth article of the resolution, where Russian and Georgia are mentioned. "It is directly mentioned that Russian military intervention in Georgia caused an inordinate number of human rights violation facts. Moreover it clearly notes that the recognition of separatist de-facto regimes, in any form is unacceptable, especially via foreign military intervention."