Saakashvili Opens New Teacher's House.
Friday, October 7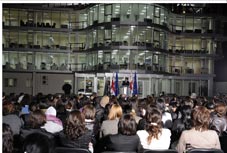 A so-called 'Teacher's House' will serve teachers 24 hours a day and offer them various training in professional development and all school subjects. School teachers and principals will also receive advise on financial and legal issues there. Presentations and discussion forums on the latest publications of educational literature, model lessons, master classes and online conferences will also be arranged at the house.
A separate room will be allocated for the children in case the teachers need to take their children with them while attending the trainings at the teacher's house.
Mikheil Saakashvili opened the house and addressed teachers, talking about the importance of high-quality education in the country. He focused attention on the need for developing new technology as well as the necessity of modernization. Saakashvili also remembered the meeting with young teachers who are teaching the Georgian language in the areas populated by ethnic minorities within the scope of the program "Georgian Language for Future Success"
"These young people represent the new Georgia and are already very popular there. They will also acquire more experience. If I were to start a new career today, I would not hesitate for one moment to become such a teacher; nothing is better than becoming a bearer of the values, freedom and the idea of unity of your country," stated Saakashvili.
The president focused attention on the importance of a high-quality modern education system and stated that Georgia should create its own niche within the world education system. According to him, the schools equipped with the latest technologies and laboratories will improve the country's education level even more.
In the framework of the event, the president along with the Minister of Education Dimitri Shashkini visited a modern laboratory within the teacher's house building. This laboratory is a present from the German Company PHEW and comprises equipment for physics, chemistry and biology. It enables the users to conduct several experiments simultaneously.
The president and the minister also saw the modern library equipped with the necessary inventories and literature. The library also offers an online service to the teachers.
Supporting teacher professional development is one of the priorities of the current education reforms. A teacher certification exam is voluntary till 2014. Certified teachers get additional payment of 75 GEL to their monthly salary. Those who pass the exam in English and Computing receive 200 GEL as an additional payment, and mentor teachers get 180 GEL as a surplus to their salary, at the same time, 25% of the teachers with the highest scores in the certification exams receive 1,000 GEL as a monthly salary.