Ilia II Calls for Unity among Followers
By Salome Modebadze
Friday, October 7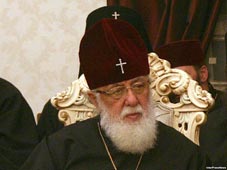 The Patriarchate of Georgia is worried about an "anti-church campaign" which discriminates against the Orthodox Church and its followers. In a statement released by the Patriarchate, on October 5 His Holiness and Beatitude, Catholicos Patriarch of All Georgia, Archbishop of Mtskheta-Tbilisi, Metropolitan of Bichvinta and Tskhum-Abkhazia Ilia II denied rumors of a confrontation at the Holy Synod. "The resolution concerning the statuses of religious organizations adopted by the Holy Synod this summer has been unanimous," the patriarch said in his statement asking everyone to stop a slandering campaign against the church.
On July 11, 2011 the members of the Holy Synod headed by Ilia II had expressed discontent on the changes to the Civil Code passed by the Georgian parliament. These changes concerned bringing the status of legal entities of public law to several religious faiths in Georgia. The Georgian Patriarchate had immediately called on Georgian lawmakers to suspend the parliamentary discussions as it was against the wishes and common opinion of Georgia's citizens. "The Church is doing everything to protect the fair rights of its nation, but it's the government's turn now," Ilia II said this summer.
The Patriarchate emphasized great respect and friendship between the Georgians and other ethnicities living in the country stressing that the Orthodox Church had always been considering the interests of their religious beliefs. Although acknowledging the equality of religious confessions in front of the law in the framework of the state constitution and international norms, they disapproved of "discrimination" against the fair demands of the Georgian citizens who form the national majority.
In the recent TV interview, President Mikheil Saakashvili discouraged religious or ethnic confrontations stressing that Georgia consists of multi-ethnical diversity with various religions adding that "enemies won't destroy us if we meet them together". The ruling United National Movement members claim the new legislation on religion groups' legal status in the country will not put the importance of the Orthodox religion in the shade. As they explain the constitutional agreement with the Orthodox Church, which fully concords with international legal values, is superior to the Civil Code.
In his statement on Wednesday, Ilia II asked Georgian co-religionists to stop searching for confrontation within the Synod and stand back from the "slander campaign" against the church to avoid any negative consequences for the country.