Sarkozy Speech Creates Positive Impression
By Ernest Petrosyan
Monday, October 10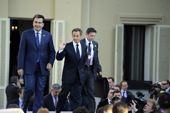 The long-awaited French President, Nicolas Sarkozy, paid a several hour visit to Tbilisi on October 7 after visiting Yerevan and Baku, giving a 16-minute encouraging, yet diplomatic speech to tens of thousands Georgians who met him with ovations at a Freedom Square decorated with French, Georgian and EU flags.
It seemed easy, on the one hand, to anticipate the gist of the French president's speech, namely his support for Georgian territorial integrity and sovereignty, condemnation of Russia's occupation policy and the Russians non-fulfillment of the six-point ceasefire agreement from the war of 2008 that Sarkozy himself mediated, and support for Georgia's integration into European institutions. However, Sarkozy moved in another direction as well. He recalled the post-World War II experience of France and Germany, which, despite "deeply rooted memories of war" chose the path of reconciliation. Through this historical analogy, Sarkozy called on Georgia and Russia "to also firmly follow the same path".
He said that France considers Russia "a friend and strategic partner" and that is what Russia should also be for Georgia. Sarkozy added that it was Moscow where most Georgians, after Tbilisi, lived.
Later in the evening, after a meeting at the Presidential Palace in Avlabari, President Saakashvili stated that the Georgian side is ready to start talks with the Russian Federation regardless of who assumes Russia's presidential office.
"Putin did not go anywhere," Saakashvili said, suggesting that Russian Prime Minister Vladimir Putin has always been in fully charge of Russia despite stepping down as president in 2008. "But as now he is formally back again, I am always ready for dialogue with him. But the dialogue is based on [the principle] that two equal nations are speaking with each other and not what he thinks - that he can nail us into a corner, run over us, bribe us, undermine us from within. He won't be able to undermine us. We have already passed through that and managed to cope with them," Saakashvili said in an interview with Rustavi 2 TV late last Friday night.
The French president's speech caused huge resonance in Georgian society. Georgian officials across the political spectrum gave almost the same positive assessment to the French president's supportive statements.
The Georgian Minister for Euro-Atlantic integration Giorgi Baramidze assessed Sarkozy's speech as "very strong and important." He also stressed that mentioning Georgia as a European state, the call for Russia to not regard its neighborhood as its sphere of influence and the French president's reiteration that the six-point ceasefire plan remains unfulfilled were all important points for Tbilisi.
Georgian PM Nika Gilauri said that Sarkozy's statement regarding Russian-Georgian relations was very important and directed to the Kremlin. As Gilauri stated, Russia's plans to restore the USSR are doomed to failure. We have many friends and partners in Europe and Sarkozy has joined them, he added.
The leader of the Christian-Democrats Giorgi Targamadze said that friendship with France is a huge privilege for Georgia, since France and Britain are countries, which play a prominent role in the international arena. "When the main signatory of the 2008 ceasefire agreement says that Russia has not completely implemented its commitments it is significant for Georgia. Partnership with France is advantageous for us, though, much also depends on us. Sarkozy emphasized it. Our purpose is to converge on European democracy", said Targamadze.
Georgian political analysts also positively assessed Sarkozy's statements. Tornike Sharashenidze, an expert in international affairs, told Interpressnews, that Sarkozy's statement's exceeded all his expectations. "For me the most important point in his speech was the statement regarding the six-point ceasefire agreement. There is a threat that this issue will be forgotten, and this is exactly what Russia hopes for.
Ramaz Sakvarelidze, an analyst, told
The Messenger
, "Sarkozy's speech was very interesting. However, I think that Sarkozy's statement which calls on both sides to establish a partnership in Russian-Georgian relations is even more important. As for the Georgian side, President Saakashvili reaffirmed that he is ready to negotiate with the Russians, as for the Russian side, it will be clearer after the elections in Russia, where the winner is
a priori
known. I do not think that Putin will continue Russia's current policy [regarding Georgia] too long due to constant international pressure."