Tbilisoba Celebrations a Success
By Salome Modebadze
Monday, October 10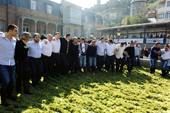 The citizens of the Georgian capital celebrated Tbilisoba with traditional festivities on October 7-9. Congratulating the citizens on the holidays, Tbilisi Mayor Gigi Ugulava emphasized the importance not only for Tbilisi citizens but for visitors to the capital. Hoping to make Tbilisoba, 2011 the most special festival ever Ugulava, with Zaal Samadashvili, the Chairman of Tbilisi City Council and the government members joined in performances at Meidani Square. The representatives of the ruling United National Movement pressed Kakhetian grapes for making wine to musical accompaniment from Chokhosnebi.
Various cultural and sporting events were celebrated in the streets of the capital during the three festive days including art exhibitions, antique car auctions, concerts of ethnical minorities, and so on. While barmen showed off their skills for adults, the children were entertained by circus performances. A Georgian pop music concert under the open sky hosted Greek singer Iovana who performed the traditional Tbisilo – a hymn dedicated to the capital. Nani Bregvadze, Buba Kikabidze, Sopho Nizharadze, Lela Tsurtsumia and other Georgian singers expressed their love for Tbilisi in song.
People could try traditional Georgian dishes on Bambis and Rkinis Rigi, Chardin and Sioni streets all day long. Nearby cafes, bars and restaurants decorated their interiors and exteriors with various colors and offered special menus to their visitors. After revealing the winners of the fruit festival the citizens could also try a huge fruit cake.
Tbilisoba included a boat trip on the Mtkvari River where Gigi Ugulava sailed with his foreign counterparts. "If we manage to solve all the problems Tbilisi citizens are facing nowadays, I think our mission will be complete," Ugulava said stressing that "Tbilisoba is the best way of rediscovering the capital, loving it and living with its rhythm."
On the final day of Tbilisoba the capital was awarded a flag of honor by the Council of Europe at Rike Amphitheatre. While Ugulava hosted diplomatic corps at Rustaveli Theatre's ball hall and awarded honorable figures with special citizenship. The "Keto and Kote" musical was also premiered at Rustaveli Theatre while the State Concert Hall hosted the jubilee concert of Erisioni dance company.
The first Tbilisoba was held on October 29, 1979 in order to give life to the traditions of Old Tbilisi. This year was unusual because the festival was held earlier than normal due to the threat of inclement weather.