Meeting of US and Georgian Delegations at NATO Parliamentary Assembly
Tuesday, October 11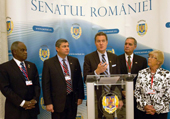 A meeting between the Georgian and US delegations took place on the fringes of the NATO Parliamentary Assembly in the Romanian capital Bucharest today. Michael Turner, Jeff Miller, JoAnn Emerson, Bobby Scott, Carolyn McCarthy and Mike Ross, all congressmen and women, took part in the meeting from the US side.
Giorgi Kandelaki, leader of the Georgian delegation, offered an overview of security challenges faced by Georgia, Georgia's contribution in the ongoing NATO ISAF operation in Afghanistan as well as on the process of Georgia's integration into the alliance in the context of the forthcoming NATO summit in Chicago.
The American parliamentarians thanked Georgia for its considerable contribution to the ongoing operation in Afghanistan and discussed ways that congressional support could be given to Georgian aspirations in Chicago.
Following the meeting, the US delegation distributed a written statement. The statement said that it is important to affirm that Georgia's NATO integration is an irreversible process as Georgia has achieved remarkable progress in implementing its Annual National Programme (ANP) as well as reforms. "I fully support a full and complete Membership Action Plan (MAP) for Georgia at the NATO Summit at Chicago in May 2012," leader of the US delegation Michael Turner said.
The statement also mentions a pending resolution in the US House of Representatives in support of launching Free Trade Negotiations with Georgia and welcomes progress achieved in bilateral US-Georgian defence co-operation. "We should keep in mind Georgia's tremendous contributions to the NATO ISAF forces in Afghanistan. A stronger Georgia is clearly in the interest of all NATO members," the statement concludes.