Ivanishvili: From Patriotic Georgian Citizen to Kremlin Stooge
By Ernest Petrosyan
Wednesday, October 12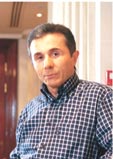 Georgian tycoon Bidzina Ivanishvili has been deprived of Georgian citizenship five days after announcing his plans to enter politics and establishing a new party. According to the statement published by the Civil Registry Agency (CRA) of the Ministry of Justice of Georgia on October 11, Russian citizen Bidzina Ivanishvili received Georgian citizenship on July 2004 and afterwards was granted French citizenship. According to the Georgian constitution and article 32 of Georgian law on "Georgian Citizenship", a Georgian citizen who receives citizenship of another country automatically loses Georgian citizenship. This means that by gaining French citizenship Ivanishvili inadvertently cancelled his Georgian passport.
"The Georgian civil registry agency examined the case in accordance with the law on "Georgian citizenship" and revealed that Georgian citizen Bidzina Ivanishvili received French citizenship. Taking into consideration the aforementioned law and according to demands Bidzina Ivanishvili was deprived of Georgian citizenship", reads the CRA's statement.
However, this is not the only legal surprise prepared by the government, which is obviously scared of Ivanishvili's political plans. According to Georgian law on "citizen political unification" non-Georgian citizens can neither establish nor fund a political organization. According to the Georgian constitution, a person with dual citizenship is not eligible to become president, prime minister or speaker of the parliament of Georgia. The president and PM must be citizens of Georgia. Moreover, following the constitution, the state has the right to impose restrictions on the political activity of people who are not citizens of Georgia or who are citizens of a foreign country.
Representatives of the ruling party univocally say that Russia is trying to buy Georgia through Ivanishvili, thereby trying to undermine Ivanishvili's reputation by tying him to the Kremlin. One of those who claims this is the Chairman of the Parliamentary Legal Committee Pavle Kublashvili who told journalists "one thing is the legal side of this case; another thing is the political side.' He stated that the legal side of the case is very clear and determined by law.
"This is the cogent demand of the law, thus the statement of the Civil Registry Agency completely corresponds with Georgian legislation", stated Kublashvili. As for the political side, Kublashvili said that Georgia has heard a Russian proposal to buy Georgian politics, media and Georgian society. "All [Russian leaders] should understand that Georgian society, media and Georgian statehood is not for sale, and such attempts will always fail", said Kublashvili adding that there will be no Russian money in Georgian politics.
In response to such hysterical political accusations from the representatives of the ruling party, the leader of Georgian Party Jondi Bagaturia reminded everyone that Kakha Bendukidze also gained his capital in Russia. "If Bidzina Ivanishvili is a Kremlin agent, who is Kakha Bendukidze then, and where did he gained his money?" asked Bagaturia at a parliamentary plenary session.
According to Bagaturia, when the government was opening roads, schools, and hospitals with Ivanishvili's money he was a "good guy" and now he suddenly become branded a Kremlin agent. Bagaturia also called on the television stations Maestro, Kavkasia, Trialeti, and the 25 channels to take into consideration Ivanishvili's proposal, since it is the only opportunity to balance the false information broadcasted by the pro-government channels.
A member of the Christian-Democrat party Levan Vepkhvadze assessed the decision of the deprivation of Ivanishvili's citizenship as political revenge. As Vepkhvadze stated at the same time this revenge puts the government in an awkward situation as "it has been revealed that a non-Georgian citizen was funding the Georgian government", said Vepkhadze.
The Georgian political analyst Gia Khukhashvili, who met Ivanishvili several days ago, assessed the government's actions as ridiculous. "The government is so afraid of Ivanishvili's political entry, that it makes ridiculous and inadequate actions. When the government needed Ivanishvili he was a Georgian citizen, now they do not need him he has somehow become a Russian oligarch. If he is a French citizen how can he be Russian? This is nothing but a selection principle which contradicts democratic principles", Khukhashvili said to
The Messenger
.