New Rights Launch New Political Action Plan
By Salome Modebadze
Thursday, October 13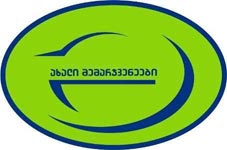 The New Rights presented their four-year strategic action plan at Radisson Hotel on Wednesday. The new political document, as the New Rights called their action plan, will be focused on several main issues, among them small and medium business development as the precondition to strengthening the Georgian economy. The initiative carried out with the support of the Netherlands' Multi-Party Institute will be followed by the employment of people, overcoming poverty, creation of public welfare, giving citizens real freedom of election and other such measures.
The party promised the creation of the starting conditions for business development through a special fund but the main priority of the New Rights is the ordinary man and woman. As Pikria Chikhradze member of the New Rights told The Messenger, the success of small and medium business cannot be ensured without the engagement of a strong middle class which is still absent in the country.
As the New Rights explained, people should have relevant jobs, access to healthcare and so on, so everything in the country should be aimed at offering a worthwhile environment to society. Access to medical services, according to Chikhradze, can be achieved by increasing the number of medically ensured people so that people could cover their healthcare expenses.
Stressing the necessity for decentralizing the country, the New Rights also suggested strengthening self-governmental bodies. Worried about the level of education in Georgia the party plans to introduce changes at schools for making the system more effective. "We call it an "investment in the future" - educated generations will promote various fields in future decades," Chikhradze told us.
A process of village encouragement was briefly explained in the strategy of the New Rights as one of the most important part of Georgians' life. As the New Rights explain, the village is an "unchangeable and unique place for Georgians" thus the party highlighted the importance of creating a special law for villages which would further be entitled to legislative status. "It doesn't mean any exotic changes but villages should feel that they are in the 21st century," Chikhradze stated.
The model of managing the villages suggested by the party would become the basis for creating modern villages where communities would have standards similar to towns. Chikhradze stressed the necessity of preserving the conservative elements of the village but taking peasants out of isolation from the innovations of the modern world: radio-television, healthcare, so that they could feel like equal members of society.
"Although this document is not a part of our official election campaign, these principles are the basis of our strategic plan which we are going to share with local and international organizations, hold wide discussions with society, raise it to the legislative level at the parliament and do everything possible for its implementation for the following four years," stated the politician.