Ivanishvili Appeals over Citizenship Row
By Gvantsa Gabekhadze
Monday, October 17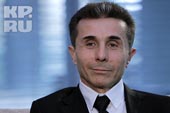 President of Georgia, Mikheil Saakashvili, has signed an order to take away Georgian citizenship from the billionaire, Bidzina Ivanishvili. However Ivanishvili is not going to concede and he has already appealed to the court over the matter to request an annulment of "an illegal" presidential order.
The Civil Registry Agency at the Georgian Ministry of Justice said Ivanishvili lost his Georgian citizenship after the agency learnt from the billionaire's October 7 written statement that after receiving Georgian citizenship in 2004 he then also obtained French citizenship. According to the lawyer of Ivanishvili, Eka Beselia, this reason was named in the president's decree as the motive to seize citizenship from Ivanishvili. Statements on Ivanishvili's citizenship have been frequently made by majority representatives from the date the Civil Registry Agency made the statement. There were also many hints about his Russian contacts from the ruling party.
Ivanishvili is not the only who has lost Georgian citizenship due to presidential decree. His wife also joined him in this field. According to Beselia, obtaining French citizenship while already having a Georgian one was only "a formal pretext" for a politically motivated decision to cease Ivanishvili's Georgian citizenship. There is a clear motive in that if a person has some other state's citizenship, then he or she cannot participate in elections, or form or finance a political party.
"With this political act Mikheil Saakashvili has admitted that he does not respect Georgia's constitution, or international norms and uses forbidden methods against a political opponent," Beselia said.
Beselia also mentioned that the stripping of Ivanishvili's citizenship was done with violation of legal procedures. She argues that before taking any decision the relevant authorities should have waited for certain procedures to be completed concerning the return of French and Russian passports which Ivanishvili intended to undergo for retaining his Georgian citizenship.
Beselia also argues that the relevant authorities took the decision without giving Ivanishvili an opportunity "to defend his rights and position".
She said that while Ivanishvili had no intention of retaining his Russian citizenship, at this stage he would retain his French passport "taking into account all the possible risks." Beselia said that Ivanishvili would launch all procedures required for revoking his Russian citizenship on October 17.
Beselia also said that along with Ivanishvili, his wife, Ekaterine Khvedelidze, was also stripped of her Georgian citizenship. In this case there was not even been a formal pretext to do so because Khvedelidze already had French citizenship at the time when she received her Georgian one, Beselia said.
"We are dealing not with legal procedures, but with illegal and unacceptable methods, as well as with misuse of presidential power by Mikheil Saakashvili out of fear of a political opponent," Beselia said.
As analyst Irakli Sesiashvili told
The Messenger
the seizure of citizenship from Ivanishvili was the reaction of authorities acting with "animalistic survival instincts". He also mentioned that it seems Ivanishvili's appearance in politics was unexpected for the authorities and it extremely frightened them. "In such a situation one employs fight or flight, the authorities selected the first way and as they did not have any compromising evidence against Ivanishvili Saakashvili has made an absolutely unsatisfactory and legally unjustified decision," the analyst said. He further explained, "a man can get citizenship of Georgia in two ways. When he is born in the country, lives here and naturally gets the citizenship, or the second way: the president bestows citizenship on those persons having special merit for the state or his citizenship has some importance for the country. Ivanishvili was the second example in this case, the president had given him citizenship, and he had a legal right to be the citizen of some other states as well. He might have lost citizenship if he himself had refused it," Sesiashvili mentioned and said that the Georgian and international community would give the issue some thought.