Mayor Hands Out Free Rides on Public Transport in Tbilisi
By Salome Modebadze
Tuesday, October 18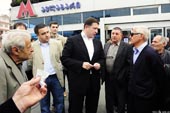 Tbilisi City Hall offered new five-lari vouchers to Tbilisi citizens on Monday. From October 17, 2011 anyone who has been using electronic transport cards will have an extra amount put on their account from the Mayor's Office. Mayor Gigi Ugulava visited Avlabari metro station earlier that day to introduce the passengers to the news personally. Concerned about the problems Tbilisi citizens are facing nowadays, Ugulava explained that the City Hall's one off initiative would decrease their transport expenses.
Admitting that GEL 5 may be nothing special for an average citizen, the mayor estimated that this amount would cover their one-month municipal transport expenses. According to information released by Tbilisi City Hall, more than one million people use
Metromani
electronic cards throughout the capital. The original cost of buses and metro is 50 tetri for the first trip of the day, 30 tetri for the second trip and 20 tetri for any following trip during the day. But there are special discounts for different social groups: students, teachers and pensioners always pay 20 tetri, socially vulnerable people 10 tetri, while school children have free cards.
As Akaki Jokhadze, Head of Tbilisi City Transport Service, stated, the vouchers can be used not only on buses and metro stations, but on the new yellow mini buses as well. The users of municipal transport can activate their voucher at any metro station in Tbilisi before January 2012. Promising to continue supporting the citizens Mayor Ugulava hoped that the vouchers would be very helpful for the citizens of Tbilisi. "We will continue such initiatives to easy people's everyday expenses," Ugulava promised the passengers.
People, who were informed about City Hall's initiative directly by the Mayor could not hide their gratitude towards the authorities. "I often use
Metromani
thus GEL 5 would be a significant relief for my family budget," Lola Oziashvili stated. But the opposition representatives already accused the government of wasting money as part of an undeclared pre-election campaign.
Republican Party member Tina Khidasheli finds Tbilisi's transport budget corrupt. Concerned that the ruling party must have used GEL 5 million from the budget, Khidasheli supposed that the abovementioned voucher may become the starting point of their pre-election plan. "It's important to know whether the Tbilisi mayor is trying to bribe the electorate through 5, 10 and 20-lari charity or not, because we are used to such charitable activities before elections," the oppositionist stated.
Worrying that GEL 5 cannot solve the problems of transportation for the citizens, Khidasheli advised the officials to use money in a wiser way and think of easing the citizens' lives in a more realistic way. As the PR Department of Tbilisi City Hall told The Messenger the mayor's office has not started their pre-election campaign yet while the money would be allocated from the capital's budget only after the statistical database about the distribution of vouchers became known.