Pupils Expelled for Spreading "Street Mentality" Spark Protest
By Salome Modebadze
Tuesday, October 18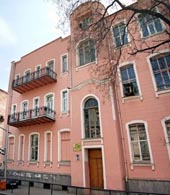 Two pupils from public school 53 may face from 3 to 6 years of detention for hooliganism. Eleventh graders Irakli Mchedlishvili and Mikheil Aleksidze were accused of violating the internal school regulations in a verbal assault against the head of the school Tariel Shavishvili and making a mess at his cabinet. As Shavishvili explained on Monday, the boys had been trying to promote a "street mentality" which is unacceptable for an educational institution.
"How can we talk about a high quality of education if the elementary principles of discipline aren't met at school?" the school principal stated. Hoping that no people with this so-called street mentality will study at Georgian schools, Shavishvili informed the law enforcement about the troublemakers.
"A director is the head of the public school, thus any offence against him/her or any teacher cannot be tolerated," the Minister of Education and Science (MES) Dimitri Shashkin said discouraging the two youth from violating the internal rules of the school. "But if anyone has any pretensions, law enforcement will solve their problems for them," the Minister added.
Classmates of Mchedlishvili and Aleksidze protested against the possible penalty against their friends. Demanding suspension of the criminal case against them they disrupted classes since Monday morning and demanded a meeting with Shavishvili to convince him not to expel the two youths from the school. As the protesters said the children had a conflict with their teacher, who ousted them from the class.
When the school principal heard that the boys had been in the hall during the lesson, he made a decision to expel them from school. Accusing the newly appointed principal Shavishvili of inadequate decision-making, the protesters stated that it is up to the principal to deal with internal problems, without the engagement of law enforcement. "It's funny to charge children for missing classes," one of their supporters stated.
According to information provided by school staff, one of the boys seemed to have constant problems with internal school regulations as he had changed 4 or 5 schools so far. But the schoolchildren and parents continue to protest Shavishvili's decision demanding his removal from his position.