Rugby as a Tool for Rehabilitation and Reintegration
Tuesday, October 18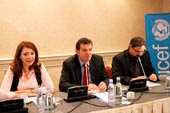 On October 17 progress was achieved in teaching rugby at the Special Educational Establishment for convicted young offenders. The gains from the program were summed up at a special event organized by the Georgian Rugby Union and the Ministry of Corrections and Legal Assistance with the support of UNICEF. The rugby initiative, including the rehabilitation of the sports field in Avchala Special Educational Establishment in Tbilisi is financially supported by the European Union.
In April 2011, rugby lessons were introduced at Avchala to help juvenile detainees learn about healthy lifestyles and teamwork. Up to now 60 children have been involved.
"For UNICEF sport is critical for a child's development. Involvement in sport can boost children's health, improve academic performance and help reduce crime," said Roeland Monasch, a UNICEF Representative in Georgia. "Rugby is very popular in Georgia and the introduction of rugby lessons for children in Avchala has been an important undertaking made possible through close collaboration with the Georgian Rugby Union and the Ministry of Corrections and Legal Assistance. We are happy to support the introduction of this important initiative."
The rugby lessons will last till November 2011. The lessons are considered a component of the ongoing juvenile justice reform.
"We believe that Rugby and sport in general is the best way to divert young people from delinquent behavior and imbed in them values such as respect, friendship, support for each other, and accepting defeat with honor," said Nodar Andguladze, a coach from the Georgian Rugby Union. "Rather than returning to a criminal life on the streets, we offer them a healthy alternative – rugby. I am sure some local rugby clubs will offer assistance to these kids when they are released and it will speed the process of their re-socialization."
The rugby lessons in Avchala Special Establishment are conducted twice a week for two hours. During the lessons healthy lifestyles and good hygiene is promoted among young people. Members of the Georgian Rugby National Team visited the children and a friendly match was organized, including members of the Georgian youth rugby club, Lelo, and members of youth national teams which participated in the Junior World Rugby Trophy in May 2011. Total Rugby TV made a film of the exchange which was transmitted in over 30 countries.
"We hope that the rugby lessons will continue, as we believe that it will promote not only a healthy way of living among these children but will impart values such as team work, discipline, and respect for others. We fully support the Georgian Rugby Union in their efforts and vision to promote rugby as an educational and rehabilitation tool." added Roeland Monasch.