Conference Addresses Cross-Border Cooperation
Friday, October 21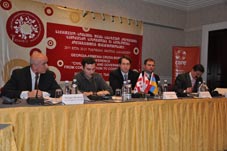 "Development cannot happen in just one country," Thomas Reynolds, mission director of CARE International in the Caucasus said on the opening day of a conference on cooperation across the Georgian-Armenian border. "What happens with your neighbors has an important impact on what happens at home."
CARE International in the Caucasus and its partner organization Civil Development Agency (CiDA) have assembled representatives of civil society and international organizations and those from local and central government bodies from Georgia and Armenia for a two-day conference to share results of a 30-month project entitled "Poverty Reduction and Confidence-Building in Bordering Areas of Georgia and Armenia by Strengthening Civil Societies in Sustainable Rural Development" (STAGE II).
The STAGE II project included confidence-building workshops between different ethnic groups, support for agriculture development and the promotion of community participation in local government.
This project targets the border regions of Samtskhe–Javakheti and Kvemo Kartli in Georgia, and Lorri, Tavush and Shirak in Armenia. The project's target populations are located in remote areas with little transportation connections to urban centres and a lack of economic opportunities outside of farming. The project aims to benefit the rural population and improve their livelihoods by improving representation and advocacy through more effective civil society and more cooperation among local governments.
"A wide number of social and economic issues affect local economic development and it is necessary to take these into account. We strive to create a forum where various stakeholders will be involved to identify and address them," said Anthony Foreman, STAGE II Project Director.
Presenters at the conference included representatives from Georgian and Armenian governments and organizations who have participated in a number of cross-border initiatives. Projects included a summer camp in Georgia that brought together youth from both countries, the rehabilitation of an important irrigation system in Noemberyan municipality in Armenia, creation of a guidebook to help farmers and vendors cross the Georgian-Armenian border and the like.
In the conference's opening session, participants were addressed by Van Baiburti, advisor to the President of Georgia, Philippe Bernhard, attache to the EU Delegation to Georgia, and Konstantine Kobakhidze, Deputy Minister of Agriculture of Georgia.
"Small and medium-sized enterprises are the key to development," Bernhard said. "Also, allocating funds for development must be done in a very transparent way and in a way that involves all stakeholders."
STAGE II is financed by the Austrian Development Cooperation (ADC) implemented by CARE Austria and CARE International in the Caucasus, along with the partner organizations Civil Development Agency (CiDA) in Georgia and Center for Agribusiness and Rural Development (CARD) in Armenia.