Remembering a Great Scholar
Friday, October 21

The Georgian Academy of Science with Georgian Technical University (GTU), Tbilisi State University and the Institute of Inorganic Chemistry and Electrochemistry celebrated the 100th anniversary of the late academician Raphael Agladze on October 18. Opening the Jubilee Session Tamaz Gamkrelidze, President of National Academy of Science, spoke of the importance of the late academician for Georgian society. Young colleagues and followers of Agladze's work gathered to remember the merits of their master. From a documentary film about his life and career the guests of the Jubilee Session learnt more about Agladze's contribution to the development of the Georgian Academy of Sciences. The Jubilee Session dedicated to the late academician continued with a three-day conference at GTU.
Awarded the prize of the Georgian Academy of Sciences for outstanding contribution to the electrochemistry of manganese, with his students Agladze exerted much effort towards the implementation of his innovate ideas purporting to free the manganese industry of Georgia from the shackles of centralized bureaucratic dictate. In 1984 Agladze developed the idea of setting up an independent concern "Electromanganese", uniting scientific and educational teams headed by him.
He contributed considerably in establishing Metallurgic and Chemical enterprises in Georgia. For the first time in Europe he organized processing and implementation of new technologies of metallic manganese, manganese dioxide and potassium permanganate.
Agladze was the organizer of many republican and International conferences; participated in the meetings of the International Society of Electrochemistry, promoted in every possible way closer contacts of scientists from various countries, and cultivated a sense of genuine internationalism in his students. Agladze's sons Prof. Tamaz Agladze and Prof. Giorgi Agladze continue their father's work by developing electrochemistry through scientific activities in Georgia.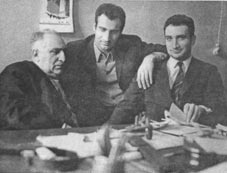 http://chemistry.ge/conferences/rac3/en/r_agladze.html