New Agriculture Minister Appointed
By Salome Modebadze
Friday, October 21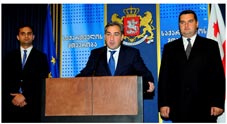 Zaza Gorozia replaced the Minister of Agriculture Bakur Kvezereli on October 20. Gorozia, who will start active work in the near future said that the "main priorities in the agricultural sector have been successfully defined by the former minister, but specialists will start working in all regions to elaborate methods for getting more from the harvest". Emphasizing that Kvezereli would remain in the governmental team and continue working Prime Minister Nika Gilauri stressed the need for a "new vision and new energy in the agricultural sector".
"I want to thank Bakur for his work. For six years he worked at the Ministry of Agriculture and for three years, he worked as the minister. He did a lot of good things, solved the problem of the vintage, improved the situation in the agriculture sector in general including export of products, but we think that there is a need for a new vision, new energy, that`s why I want to introduce a new minister to you. Zaza Gorozia worked as Samegrelo Governor for the past six years and did it successfully. I want to wish him success as the minister too," the Prime Minister said adding that the minister's participation in planning the new budget would be very important for defining the priorities of the sector.
The former agricultural minister Kvezereli said he would continue using his knowledge and energy in the same field but didn't specify the form of cooperation with the agricultural sector. As the government's parliamentary secretary explained to the media, Kvezereli's removal has been based on a governmental strategy. "Government reshuffles are not new for the country. The players have been reshuffled from various positions to others according to a strategy Georgia has had for the last 10 years," the secretary said.
The leader of the Christian-Democratic Movement (CDM), Giorgi Targamadze, who has been opposing the agricultural policy in Georgia for a long time, stressed that no one would have touched Kvezereli if he had been a success as a minister. "We can only judge the newly appointed minister after he announces his strategy and makes practical steps," Targamadze stated. CDM member Giorgi Akhvlediani also hoped that the new minister would end stagnation in the sector. Although he was not sure whether Gorozia is familiar with the agricultural sector or not, Akhvlediani still welcomed the end of "dilettantism" in the sector and hoped for changes under Gorozia's governance.