Lavrov: Russia Can Join WTO without Georgian Consent
By Ernest Petrosyan
Monday, October 24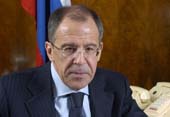 The EU trade commissioner Karel De Gucht called on Tbilisi and Moscow to resolve their WTO related dispute soon while announcing a deal with Russian Federation on its terms to join World Trade Organization. "We have struck a deal on the final outstanding bilateral issues, leaving the way open for Russia to join the WTO by the end of this year", the commissioner said on October 21.
"There is now very little time left to reach a bilateral agreement between Georgia and Russia. I call on both parties to continue their efforts to find a solution in a spirit of compromise. The EU is ready to offer whatever help is necessary to resolve the issue," he added.
According to the Georgian side, the last round of Swiss-mediated talks with Russia over WTO entry, held on October 20 in Geneva, failed to bring any progress since Moscow rejected the principle from the Georgian side on the measures necessary for "full trade transparency across the disputed borders of breakaway Abkhazia and South Ossetia.
"This meeting ended with no result again. The situation is the same as it was after our last round of talks. We agreed that another meeting will be held at the beginning of next week," Sergi Kapanadze, Georgian deputy foreign minister, said.
Failure in Russian-Georgian talks has become commonplace, and absolutely unsurprising, due to the principle positions of Moscow and Tbilisi. The sides achieved no result after 17 rounds of Geneva talks, nor did they advance in talks over Russia's WTO entry.
Russian Foreign Minister Sergey Lavrov, however, thinks differently. Lavrov again suggested on October 21, that there was a way for Russia to join the WTO without Georgia's green light.
"Following strictly WTO's documents, Georgia's position is not an obstacle. There are ways to act so that our trade obligations toward all the WTO members do not apply to Georgia", said Lavrov in an interview to Russian radio stations.
As Lavrov had previously said, WTO procedures somehow allowed an aspirant country to join the organization through a vote. The US officials nonetheless has said several times, that Washington was not in favor of resolving the issue through a vote at the WTO and instead have been calling on the both sides to reach an agreement through negotiations. Michael McFaul, a top White House adviser on Russian policy, who has been nominated as US ambassador to Moscow, said on October 12 that there was no way for Russia "to go around Georgia" over the WTO.
US Trade Representative, Ron Kirk, told Reuters Insider on October 21, that Washington was committed to working with both Russia and Georgia over the WTO-related dispute.
"But we're doing so as an honest broker. That is an issue for Russia and Georgia to find common ground so we can move forward," Kirk said. He also said that the US had resolved "most" of its bilateral issues with Russia.
Analyst Nika Chitadze admits that there are several ways to gain Russia's WTO entry without consensus. "WTO rules contradict each other; however, there is no precedent as of yet to enter without consensus. The Georgian side tries to push Russia to agree on border transparency in the breakaway regions, though Russia still refuses to compromise. Though I think it is a matter of time, and sooner or later it will compromise", Chitadze told
The Messenger
.
The desire for Russia's WTO entry is obvious. The US and EU openly support Russia's entry, who on the one hand put political pressure on Tbilisi, but on the other hand approach the Georgian position with sympathy. The Georgian government is also motivated to see Russia as a WTO member, however, it also tries to push negotiations in its favor.