New Agricultural Minister Attends First Government Session
By Salome Modebadze
Monday, October 24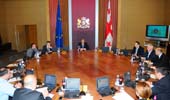 Prime Minister Nika Gilauri welcomed the newly appointed Minister of Agriculture Zaza Gorozia to his first government session on October 21. Talking of Gorozia as a very experienced member of the ruling United National Movement (UNM), Gilauri emphasized the responsibilities of being a minister. "Agriculture is among the main state priorities nowadays and there are still so many things to be done in the sector," the PM said wishing luck to Minister Gorozia in "such a difficult position".
The priorities of the agricultural sector remain unchanged, while the former Minister Bakur Kvezereli will join the Partnership Fund working on agricultural and other related fields. Thanking Kvezereli for improving the situation in the agricultural sector during his reign, PM Gilauri encouraged the new Minister Gorozia to make an agreement with partners on exporting wine to Canada.
Other ministers also welcomed Gorozia's appointment to the governmental position. Papuna Davitaia, Minister on Diaspora Issues and Nika Rurua, Minister of Culture and Monument Protection emphasized Gorozia's experience as he successfully governed over Samegrelo for years stressing that the former governor would maximally use his knowledge in the agricultural sector.
Discussing the ten-point strategic development plan with his colleagues, Gilauri stressed that the four-year schedule gives a brief introduction to the activities defined for the country for 2011-2015. The strategic plan, uniting all important issues, was presented to society at the beginning of the year. "The plan is a document of socio-economical policy, which needs to be discussed once every six months to become familiar with what has been done and what needs to be further achieved," Gilauri stated.
As Gilauri stated, the governmental team worked on reworking the document for more than a month, thus the PM asked his colleagues to individually present their areas of responsibility in 2-3 weeks. Andria Urushadze, Minister of Labor, Health and Social Affairs of Georgia will gather representatives of the healthcare system and other professionals to make a joint presentation of the ten-point plan, while Dimitri Gvindadze, Minister of Finance has to discuss macroeconomic parameters with businessmen for attracting the interest of the private sector.
Ramaz Nikolaishvili, Minister of Regional Development and Infrastructure, who also received similar instructions from PM Gilauri said the ministers would share the governmental plan with society immediately after they finish discussions with the representatives of various state or public sectors.