USAID Launches New Project to Stimulate Rural Economies
By Etuna Tsotniashvili
Monday, October 24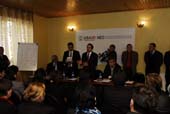 On October 21, the US Ambassador to Georgia John Bass joined the governor of the Mtskheta-Mtianeti region Tsesar Chocheli, government representatives and community members in the village of Kvesheti where the USAID's New Economic Opportunities (NEO) Initiative was officially launched. USAID's NEO is a $20.5 mln four-year program designed to improve rural incomes, reduce poverty levels, improve food security, and to facilitate internally displaced persons to work cooperatively on shared issues.
The meeting with the US Ambassador was held in a very friendly atmosphere, the local population expressed their unanimous gratitude to the US government for the assistance and the meeting continued in a Q&A format. The Ambassador responded to all the questions from the locals and said that he sees the country and the government trying to catch up and overcome the constraints caused by ten years of conflict and more than fifteen years of no investment in infrastructure or education. The proposed scheme, according to the Ambassador, will bring practical knowledge to communities like Kvesheti in terms of improving agricultural techniques, tourism development and other assistance which allow people to get employed and increase their income.
"I am really pleased to be here, in Kvesheti, to launch a new four year project, [worth] a total USD 20 mln, that is designed to help rural communities in Georgia, identify the obstacles to economic growth and additional employment and try to help provide some resources, to help people to meet immediate obstacles. This is a bottom up program, this is a program designed to help communities organize themselves, identify the challenges, provide some resources to help them get started in identifying and addressing these challenges and working to improve economic prospects in the communities," Ambassador Bass stated.
Manana Tsotskhalashvili, school principal of Pasanauri public school said she is confident that with this assistance the local population will move back to their villages and the migration process will decrease. "We very much hope that this day will become a starting point for the economic development of our region and therefore this is a very important day for us. A serious amount of money is to be spent in our region which will help the local population create small businesses and employ people. Our region has a big potential to develop tourism, and cattle breeding, which almost do not exist nowadays. If someone gives people the opportunity to develop their business ideas in terms of cattle breeding or tourism infrastructure this will stop our people from moving to the capital. Migration is a serious problem, because of the lack of jobs the youth goes to the capital and other big towns. I am a school principal and 20 years ago we had 500 schoolchildren in our school, currently that number is only 183," Tsotskhelashvili told
The Messenger
.
Tamar Bzishvili English language teacher says that this project will arouse a big interest among the population and those who have left the region because of the poor economic conditions will return and restart life in their home villages.
"The major goal of this project is to reduce poverty and increase economy in the regions of Georgia. Starting next week our representatives will hold a working meeting with the local working groups and further discuss the plans which should be carried out in this particular region, it may include tourism development, cattle breeding and so on," Saba Sarishvili, Deputy Chief of Party told
The Messenger
and added that how much money will be spent on each region has not been discussed yet.
Over the next four years, the NEO project aims to benefit at least 70,000 rural and vulnerable households in ten municipalities: Dusheti, Stepantsminda, Kareli, Gori, Khashuri, Oni, Tsageri, Lentekhi, Zugdidi, and Tsalenjikha. The program is administered through the United States Agency for International Development (USAID).
NEO is designed to help municipalities and communities like Kvesheti to identify and implement infrastructure projects that have direct economic benefits, to facilitate the attraction of investments and to develop links between the communities and larger economic markets. It will also provide grants, trainings and technical assistance to communities. Overall the project will follow opportunities to support increased growth, employment and household incomes.