Bakradze Visits Samtskhe-Javakheti Region
Tuesday, October 25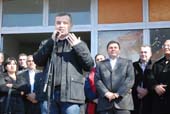 The Chairman of the Parliament of Georgia, David Bakradze along with the MPs, visited Samtskhe-Javakheti region. Bakradze visited complete and ongoing infrastructure projects and met with the local population.
Bakradze opened the water pipe-line in the village Gandza, Ninotsminda Municipality. With the accomplishment of providing a drinking water supply system, up to 4,000 residents of Gandza, who had not seen running water for 20 years, are now provided with it. After opening the water pipe-line, Bakradze met with the local residents. "From this date, the village has drinking water and this is part of the project which we have launched. All villages will be provided with water, roads and gas. This is part of our electoral promises and one more example that despite the problems, our promises will be fulfilled. The government of Georgia will fulfil all these projects," the chairman stated
Bakradze also visited Akhalkalaki and opened the brewery "Balli". There are more than 100 local residents employed at the factory and 100 persons more will be employed in the near future on the distribution of beer.
"These dynamics reflect that the region is developing and is on the way to progress. Despite the existing problems, the fact is that many problems have been solved during the recent years in the region," Bakradze stated. According to him, the spirit and attitude of the region has changed in a positive manner and it is a result of the implemented projects. "The local residents perceive themselves as citizens of Georgia under the care of the state and this is important. It is also important that the region is being developed and this is one of the most significant preconditions for unity and power in Georgia," he noted. Bakradze planted a tree in the yard of the brewery.
The Vice Speaker of the Parliament of Armenia, Samvel Balasanyan attended the opening of the brewery. Bakradze awarded the Order of Honor on behalf of the President of Georgia to Balasanyan.
The parliamentary chairman visited a newly constructed sports complex and swimming pool, which will be open in the nearest future.
Bakradze, along with the Metropolitan of Akhalkalaki and Kumurdo Diocese, Nikoloz, visited the St. Archangel Michael Nunnery, where a copy of the Turin shroud is engraved. There is a 3D image of Jesus Christ depicted on the shroud and it is considered evidence of the passion and resurrection of Jesus Christ.