Conference on Better Regulation in Tbilisi
Tuesday, October 25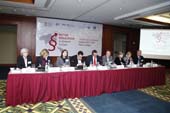 Last week, Tbilisi saw an international conference on "Better Regulation in Eastern Europe". On October 20-21, high ranking government officials and eminent experts from Eastern and Western Europe shared their wide range of experiences on Better Regulation. They discussed issues like: Regulatory Impact Assessment, manuals on law drafting, politics and institutions for Better Regulation, guidance for multi stakeholder processes, examples and practices in Western and Eastern Europe. The conference was held at the hotel Courtyard Marriott with participants from, amongst others, Georgia, South Caucasus, Ukraine, Poland, Germany, United Kingdom and United States of America. It was hosted by the Georgian Ministry of Justice and organized by GIZ (Deutsche Gesellschaft fur Internationale Zusammenarbeit, German Development Cooperation). Co-organizers were the German Foundation for International Legal Cooperation (IRZ) and OSCE/ODIHR.
The Deputy Minister of Justice of Georgia, Giorgi Vashadze, who opened the conference underlined the general and concrete importance of such types of conferences, he highlighted the fact that such conferences are dedicated to the adoption of better legislation by the state, which would be more oriented towards the "assistance of business and welfare for each citizen" Vashadze told The Messenger.
As the head of the law making department of the Ministry of Justice, Irine Tsakadze told The Messenger, the conference was being prepared for a long time with the partners and the aim of the meeting was sharing the Eastern European states' experience in the area of Regulatory Impact Assessment (RIA). "RIA is still not established in the country and with GIZ we are actively working in this direction, thus the sharing of foreign analysts' views and our colleagues' experiences was essential for us." She also underlined that one single method of doing RIA does not exist" the most important thing for us is to take the best experiences of other states and fit it to Georgian reality."
Ulrich Karpen of the University of Hamburg, Professor at the Institute for Public Law and Political Science, paid attention to the importance of Georgia's collaboration with European states and organizations while working on drafts. He also mentioned "less quantity more quality - it is better they be less in number, however effective, society-oriented and simple for understanding." Professor Karpen also touched upon election law and mentioned that this is pressing for many states, and there are many states which are now undergoing reform, including Germany, as the country's constitutional court rejected old election legislation." Thus, in this field we are in the same situation" the professor told
The Messenger
.
Foreign experience is important, however there are issues Georgian lawmakers should pay more attention to, Ms. Kathleen Imholz, Centre for Public Policy, Political Science and Law, told The Messenger, "Georgia has its own history, culture, attitudes and lawmakers should pay attention to all these issues while drafting the law to create individual approaches and laws, which would be suitable and characteristic for the state." At the same time, she stated that it was a very high level conference and it was important to understand different states' achievements and experiences in such important fields.