David Bakradze Meets Romanian Counterpart
Wednesday, October 26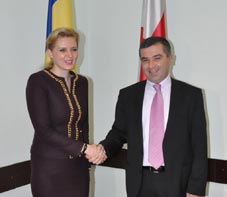 The Chairman of the Parliament of Georgia, David Bakradze met with the Chairwoman of the Chamber of Deputies of Romania, Roberta Alma Anastase. At the meeting, the parties spoke about the enhancement of relations between the parliaments of the two countries, implementation of energy security projects and development of trade relations.
As Bakradze stated at the joint briefing after the meeting, Romania is one of the active supporters for accession of Georgia to NATO, approximation to the EU and the territorial integrity of Georgia.
Bakradze thanked the Romanian side for the monitoring carried out by 29 Romanian observers in the EU Mission. "Romania is the second country in the EUMM according to quantity, which reflects the support for peace and stability in Georgia," Bakradze stated.
At the meeting, the parties agreed that after this visit, the relations between the two parliaments would become more active, friendship groups would make exchange visits, and a cooperation document would be signed between the relevant committees. "The Romanian experience is interesting in terms of accession to the EU, harmonization of legislation and economic reforms. Our cooperation is progressing and I am sure that the visit of this delegation will be one more step forward for the enhancement of our relations," Bakradze stated.
Roberta Alma Anastase once more expressed Romanian support for the territorial integrity of Georgia, the accession of Georgia to NATO and approximation of Georgia to the EU.
At the meeting, it was stated that Georgia and Romania have one and the same priorities. Plans for cooperation were outlined. The first precedent took place two weeks ago, when the delegations of Romania and Georgia signed a protocol on cooperation in the NATO Parliamentary Assembly. "Cooperation between the two countries will be important for stability and security of not only our countries but the whole Black Sea region as well," Roberta Alma Anastase stated.
The Romanian delegation is in Georgia currently and arrived on October 24. The meetings with the members of the government of Georgia and the Catholic-Patriarch of All Georgia, Ilia II are planned within the scope of the visit.
Mrs. Roberta Alma Anastase will leave Georgia on October 26.