Commemorating Mikheil Tamarashvili
Tuesday, October 25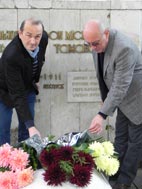 A hundred years have passed since the tragic death of Mikheil Tamarashvili, also known as Don Michelle Tamarati 1858-1911. He was a Georgian Roman Catholic priest, doctor of theology, historian and pedagogue. Besides his native Georgian he spoke Armenian, Russian, French and Latin. He was educated in Istanbul, Paris and Rome. He was the author of several scholarly books, among them A History of the Catholics in Georgia in 1902. In this work the Georgian scholar promoted the idea of Georgia's western orientation. In 1910, Tamarashvili published a History of the Georgian Church in French. In his works, Tamarashvili promoted not only the past of Georgia but the culture of a western-oriented nation. On October 23, 2011 in the church of Santa Marinella, the place where Tamarashvili died tragically in 1911 while rescuing a person from the stormy sea, a sermon was held by Bishop Monsieur Gino Reali. A plaque was unveiled to the memory of Don Michelle Tamarati.
The Georgian Ambassador to the Vatican, Ketevan Bagrationi, envoy of the Georgian embassy to Italy Irakli Khutsurauli, professor of oriental studies of the Vatican, Padre Vincenzo Poggi, professor Gaga Shurghaia and other guests paid tribute to the Georgian scholar and public figure.
On October 23, in the Didube pantheon in Tbilisi the Georgian – Italy Friendship Association decorated with flowers the grave of Mikheil Tamarashvili, whose corpse was taken to Georgia from Italy in 1978.