US Speaker of Congress Offers Strong Support for Georgia in WTO Spat
By Ernest Petrosyan
Thursday, October 27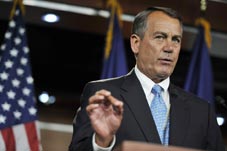 Speaker of the US House of Representatives, John Boehner slammed the Obama administration for "leaning on Georgia" in an attempt to drop Georgian objections to Russia's WTO membership. The Georgians are tying Russia's bid for entry into the organization to the resolution of border disputes.
Speaking at the Heritage Foundation's event called the Risks of the Reset, Boehner, the Ohio Republican, said that the Russia-Georgia WTO-related stalemate should be resolved "in a manner that respects the territorial integrity of Georgia. "Then -- and only then -- will movement on the WTO question be worth considering" underlines Boehner.
The Georgian side claims that there has not been a breakthrough in the Swiss-mediated negotiations with Russia over WTO entry terms, since Moscow declines the Georgian side's precondition regarding "full transparency" of trade across the disputed borders with Russia in breakaway Abkhazia and South Ossetia.
The White House however, said in response that it remains "unwavering" in its commitments to Georgia and the country's territorial integrity.
"We have made clear, both in private channels and in public statements, that the United States will not support Russia's WTO accession until Russia and Georgia reach agreement on their outstanding trade-related issues," said the US National Security Council spokesman Tommy Vietor according to Associated Press.
Yet, on October 25 after the House Speaker's remarks, the U.S Department of States' spokesperson also said that the issue of Georgia and its territorial integrity was at the center of the US dialogue with Russia "at every level."
"We recognize Georgia's sovereignty, its territorial integrity. We've been absolutely clear with Russia about that. This is an area where we have disagreement. As we always said with regard to the 'reset', we will cooperate and work together where we can, but we will also be absolutely clear where we disagree," Victoria Nuland, the Department of States' spokesperson, said.
Georgian Parliament Chairman, David Bakradze, welcomed the supportive statement of the Americans. He assessed Bohner's statement as strong support for Georgia's interests, calling it "very important". As Bakradze stated, Georgia is interested in Russia's accession to the WTO and in regulation of relations with neighboring countries according to normal and civilized principles. He however noted that Georgia "cannot support Russia's WTO integration at the expense of the violation of the fundamental interests of Georgia".
"That's why it is very important that partners in the US Congress understand and support our position. We appreciate this support", Bakradze said.
Judging from statements of officials and the international media, it seems that, unlike the European Union, the United States puts less pressure on Georgia. Though Georgian Deputy Foreign Minister Nino Kalandadze denies that there is any kind of pressure on Georgia, saying that Georgia was not pressed by its Western partners to give the green light to Russia's WTO membership at all. As the Wall Street Journal reports, the European Union is stepping up pressure on Georgia to accept Russia's bid to join the WTO in an attempt to improve relations with Moscow.
To support this argument, the Wall Street Journal highlights the visit of Gunnar Wiegand, who works for EU foreign-policy chief Catherine Ashton, as the EU's top diplomat for Russia and Central Asia, and who met with senior Georgian officials in Tbilisi.
He delivered a blunt message according to people in Tbilisi familiar with the talks: Georgia needs to agree quickly to Russian accession. Wiegand added that the EU would be open to putting on the table an exemption to WTO rules allowing a straight-up majority vote on Dec. 15, which would allow Russia to get in without Georgia's approval, a huge loss of face for Georgia. US officials declined to comment on the idea
Russia seeks to have WTO membership by the year's end, but its negotiations with Georgia have turned out to be a stumbling block. In return for WTO membership for Russia, Georgia's wants transparency of trade across borders to Abkhazia and South Ossetia, two regions that pronounced independence after the August 2008 armed conflict between Georgia and Russia.