NATO insists on further reforms
By Ernest Petrosyan
Friday, October 28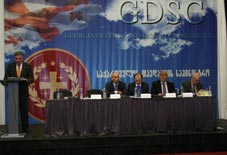 "Principles regarding cooperation with Georgia and the decision of allies taken at the Bucharest summit do not change", stated James Appathurai, NATO Secretary General's Special Representative for the Caucasus and Central Asia at the International Defense and Security Conference opened by the Georgian State Minister on European and Euro-Atlantic Integration, Giorgi Baramidze at the Radisson Blu Hotel on October 27.
At the conference Appathurai told journalists that NATO maintains the principles agreed to at the 2008 Bucharest summit: "Defense and security issues were discussed during the conference. I also held meetings to prepare the visit of the North Atlantic council. The council members are looking forward to this meeting," Appathurai said.
"I am sure President Saakashvili and Georgian governmental members will listen to how satisfied the NATO members are with Georgian reforms and progress, but something always needs to be done. Though the government of Georgia is on the right path, I refer to reforms in defense, judicial and electoral systems," he said.
However, he noted that Georgia's integration into NATO will depend very much on further reforms. "We are working on all aspects, including judicial and electoral reforms. Also military reform is very important. Future elections will be a significant test for progress of democratic reforms," James Appathurai said.
At the conference Baramidze stated that Georgia is going to continue reforms and thereby approach NATO more. He emphasized Georgia's merits in the ISAF mission in Afghanistan. "By participating in the operation, Georgia proves that it is not only a user but also provider of security", said Baramidze referring to the Georgian military contingent in Afghanistan.
In his speech Baramidze mentioned EU monitors, noting that it is the only mission working in Georgia. "Despite Russia not allowing monitoring in occupied territories, it is still a significant mission that promotes to evade aggression and new military provocation", Baramidze said.
The US Ambassador to Georgia, John Bass, made a somewhat critical comment regarding Appathurai's statement, which was disseminated by foreign and Russian media affirming that Georgia's NATO Membership Action Plan will be addressed at the 2012 Chicago summit. Appathurai later denied that he made this statement and alleged that it was misinterpreted by media. According to Bass, it is yet early to say whether the issue of giving MAP to Georgia will be raised on NATO ministerial in 2012.
"Despite my great respect for Mr. James Appathurai, I would not determine six months before the Chicago ministerial conference what issues may be raised on the ministerial and which would not," Bass stated. He also said that Georgia is an important partner with a significant contribution in Afghanistan and noted that the country is making progress and is carrying out significant reforms in the field of Defense. "We try to assess what the additional steps will be to increase this progress," Bass added.
Analyst Gia Nodia, who also participated in the conference, considers it important to have a very intense relationship with NATO at this stage. "We realize that currently the political conjuncture is not benign to be granted membership action plan (MAP) status, or to be accepted in NATO, but it is important to have positive dynamics and an intense relationship with NATO. Thus such conferences are a good format to keep talking about the readiness to enter NATO," he stated.