The Georgian National Bank takes measures to assist Cartu Bank
By Gvantsa Gabekhadze
Friday, October 28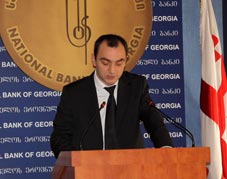 The Chair of the National Bank, Giorgi Kadagidze, evaluated 2010 as a positive year for the Georgian economy and identified some new issues for the year ahead in the economic and banking sectors when he spoke in Parliament on October 27. He also answered several questions regarding the problems of Cartu Bank, owned by Georgian billionaire, Bidzina Ivanishvili. He mentioned that the National Bank is ready "to suggest USD 2 million and Euro 1 million as assistance."
Kadagidze claims that "almost all indexes of economy have returned back to recession position." He says that trust towards the banking sector significantly increased in 2010 as a "record amount of deposits--GEL 5 billion—were recorded in different banks."
It appears that Georgian banks are now less dependent on foreign investments than in 2005-2007, according to the Head of the National Bank. The main driving force for economic growth was formerly foreign direct investment while in 2010 income came from exports and from the service sector. "For the first time we got serious income from tourism in 2010," Kadagidze, said. The Head of the National Bank also referred to ongoing reforms. "Now we are at the third stage of economic reforms, working on improving the tax system, constructing a Cash Centre, are to be concluded next year."
Cartu Bank-related issues were raised by Georgian media representatives for Kadagidze. He stated that no threats are expected towards Cartu Bank's normal functioning and therefore a complex assistance program for the Bank could be envisaged. He stated that the National Bank is ready to allocate USD 2 million and Euro 1 million to assist the Cartu Bank. This is equal to the sum confiscated from the bank by the Interior Ministry. Political speculations concerning the issue must end, he stated so that the banking sector will be free from political pressure. Until the issue is clarified, the National Bank is ready to allocate this guarantee.
As the Economic Analyst, Gia Khukhashvili told The Messenger, Georgian banks function according to regulations and structurally their actions are absolutely adequate and organized. The issue "which is creating problems for Georgian banks are systemic shortcomings of Georgian economy." As for Kadagidze's statement that Georgian banks received serious income from tourism, he believes this is rather "paying a contribution to the authorities...Everyone knows the reality." The analyst noted the "positive tone" of the initiative revealed by Kadagidze regarding Cartu Bank, "It was really a positive step and it is in the interest of the National Bank as well, as what happened towards Cartu Bank negatively affected the whole Georgian banking system. It was a harsh, inadequate and unimaginable action, which nearly destroyed the sector," he said. Khukhashvili pointed out that the National Bank found an adequate solution for the problem since it was not in the power of the National Bank to free the Cartu Bank money confiscated by the Government.
On October 18 the police seized a "large amount" of cash belonging to billionaire politician Bidzina Ivanishvili's Tbilisi-based Cartu Bank. The sum amounted to USD 2 million and Euro 1 million. According to the Interior Ministry's official statement "an especially large amount of cash" was confiscated from Bidzina Ivanishvili's bank in connection to "money laundering".