Using Georgia's water resources more rationally
By Ernest Petrosyan
Monday, October 31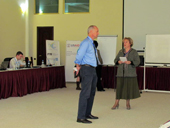 The Global Water for Sustainability (GLOWS) consortium held a five-day workshop in Tbilisi on water safety for the urban and rural 33 representatives of the Georgian United Water Supply Company. The aim of the training was to introduce a Water Safety Plan methodology, elaborated by World Health Organization (WHO) and the International Water Association (IWA). The Water Safety Plan worked out by the UNESCO-IHE (Institute for Water Education) and Florida International University (FIU) seeks to reduce risks to the contamination of potable water by setting up a "multi-barrier approach".
"We are initiating a critical component of a larger program focused on managing natural resources in watersheds of Georgia. This component focuses on insuring the safety of the water supply that people rely on. We have chosen this approach because it is an internationally sanctioned encouraged approach form WHO and IWA. Also it is important because it recognizes the protection of water supply in watershed content," said Michael McClain, Ph.D. Associate Professor of Ecohydrology of UNESCO-IHE Institute of Water Education
"The system will help ensure the safety of the water supply that people rely on. "The approaches introduced during the training are familiar; though some new elements have been discussed on innovative approaches to water disinfection in our pilot projects", ," said Nino Natslishvili, lab specialist of the United Water Supply System in Kakheti. "As for water supply systems in Kakheti, they are being rehabilitated. Water quality is sufficient and regularly chlorinated," she added.
"This workshop gave us more experience and know-how. The water supply system in Javakheti is also in the process of intensive rehabilitation," said Manana Kakachishvili, the Javakheti Branch lab specialist of United Water Supply Company.
The GLOWS consortium is led by a Florida International University in Miami, which is implementing an umbrella project, Integrated Natural Resource Management in Watersheds of Georgia (INRMW), a four-year program funded by USAID to improve the lives of people in local communities by managing natural resources in a more sustainable manner. It encourages better use of water, soil, vegetation and the entire Georgian ecosystem.