Prime Minister met Teachers
Monday, October 31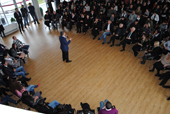 Prime Minister of Georgia, Nika Gilauri, met the public school principals and teachers at the Teacher's House. The goal of the meeting was to discuss a 10-Point Strategic Plan of the Georgian government.
Gilauri personally introduced this strategic plan to the teachers and principals: Prime Minister focused on education- one of the main directions of the 10-Point Plan. He also talked about the increased salaries of the teachers and congratulated the successful teachers on passing the exams. Prime Minister defined the teachers' certification and their professional development as one of the main priorities in the education sector and emphasized that the Government of Georgia will provide a better working conditions for teachers in the future.
The meeting was also attended by those teachers who have passed certification exams in professional skills and respective subject, English Language and Computer Technology and are among the top 25% of the teachers. These teachers receive 1000 GEL as monthly salary.
Certified teachers receive additional payment to their monthly salary, amounting to 75 GEL. Those who pass an exam in English Language and Computer Technology receive 200 GEL as an additional payment, and qualified mentor teachers have 180 GEL added as a surplus to their salary.
On the initiative of the President of Georgia, this year, the Ministry has launched a new program "Georgian Language for Future Success". Participants of this program had opportunity to attend today's meeting with the Prime Minister of Georgia. As a part of this program, BA and MA students, teach various school subjects in Georgian language to the school pupils residing in the regions populated by the ethnic minorities. The Georgian government funds MA studies of the BA students engaged in this program.