An end in sight for World Trade Organization discussions between Georgia and Russia
By Ernest Petrosyan
Monday, October 31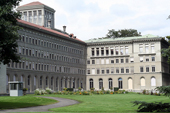 The Swiss-mediated talks between Tbilisi and Moscow have finally moved from a deadlock, thanks to international political interests and some pressing statements by western diplomats. The Georgian side has accepted a compromise proposal tabled by the Swiss mediators in talks over Russia's WTO entry terms. Russia however, has taken a "timeout" to respond.
Russia's top negotiator over the WTO issue, Maxim Medvedkov, said Moscow would require several days to elaborate its response to the Swiss proposal. According to Medvedkov Russia will respond this week.
Georgian Deputy Foreign Minister and Delegation member Sergi Kapanadze said that the Swiss mediators offered "a compromise proposal" on October 26 to which Georgia agreed. "This proposal still envisaged international monitoring of trade and electronic data exchange systems. The difference [in the new proposal] was only in the forms of international monitoring," Kapanadze stated.
According to him this compromise proposal still envisages two basic components that Georgia believes are important for transparent trade across their disputed borders – international monitoring and electronic data exchange.
As Kapanadze said, the proposal envisages international observers to be deployed on both ends of "trade corridors" – areas that will be defined by their geographic coordinates and not by names, in an attempt to keep a status-neutral approach. "This is a step forward from the deadlock, which made western diplomats more positive."
"The European Union is very pleased that Russia and Georgia appear to be close to an agreement, which, in our view, will strongly benefit both sides", said the Head of the EU delegation to Tbilisi on October 28. "We give full support to the Swiss-mediated efforts that recently made finding the solution likely. The European Union would very much like to see a decision on Russia's accession to WTO ministerial this year. We encourage the parties to finalize the deal in the coming days," Philip Dimitrov said in a written statement.
The New York Times cited the Secretary of Georgia's National Security Council, Giga Bokeria, saying that the Swiss compromise offers to place observers from private firms on both the Russian and Georgian sides of the border — though not inside the breakaway regions — to monitor cargo. According to Bokeria the contractors will be hired by neutral third parties, like Switzerland, or the European Union.
Economic analyst Shota Murgulia positively assessed the Swiss proposal. "This is a political decision, which is indeed good for Georgia. Russia's WTO entry will open a huge market for Georgian products. Everything this will positively reflect Georgian economy in the end," told Murgulia
The Messenger
.
Initially Georgia insisted to set up its customs officers on the Abkhaz and South Ossetian sections of its border with Russia; then, such scenario was least likely to be developed, Georgian authorities have been pushing for having international monitors, preferably from the EU, which is also undesirable for Russian diplomats.