Important Swiss delegation arrives in Georgia to finalize WTO agreement
By Ernest Petrosyan
Tuesday, November 1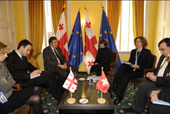 After talks in Moscow, the Swiss delegation headed by Swiss President and Foreign Minister Micheline Calmy-Rey met President Mikheil Saakashvili in Batumi on Monday evening to discuss details of the agreement that would monitor control of Georgia`s internationally recognized borders and allow Russia`s membership in the World Trade Organization.
According to a top Kremlin aide, after meeting between Russian and Swiss presidents on Sunday, Moscow wanted to "clarify" some of the issues in the proposal tabled by the Swiss mediators and accepted by Georgia last week about Russia's WTO entry terms.
"There are a number of issues that still need to be clarified," said Arkady Dvorkovich, the Russian presidential assistant. "Our Swiss colleagues, who are leaving for Tbilisi today, will raise these issues in talks with Georgian colleagues. Upon the results of these talks additional consultations by phone may take place between the Swiss mediators and the Russian side if needed," said Dvorkovich on Monday.
"We hope that all the issues will be agreed in the next few hours. There are no major problems, but some of the points still need to be clarified. In case of a positive outcome we do not see any substantial impediment for the WTO documents to be approved," he added.
Georgian officials, however, say that Georgia has accorded a last opportunity to Russia to join WTO. "Georgia has done everything to allow Russia to join WTO and in fact Georgia made lots of compromises," Nino Kalandadze said in her regular Monday briefing.
The Head of Georgian National Security Council, Giga Bokeria, speaking to Rustavi 2 on Saturday, said "the proposal from the Swiss side regarding Russia's WTO entry is balanced and envisages important points for our side."
"Our allies are interested in Russia's WTO entry and membership, which they consider will bolster the global economy," said Bokeria. Therefore, he emphasized, "Georgia has come to a rational compromise." He said Georgia is interested in the international monitoring of trade turnover on Russian-Georgian borders and noted that this monitoring will be implemented by independent structures.
"This is the last chance for Russia, and we do hope they will use it," added Bokeria.
Actually, it is not clear what issue exactly Russia wants "to clarify." The remarks by the Kremlin aide, however, may suggest that Moscow wants to include some changes in the Swiss proposal, which Tbilisi has accepted during the talks in Geneva last week According to Georgian officials the Swiss proposal envisages deployment of international monitors from a private company [desirable for the EU] at both ends of "trade corridors" – a reference to the breakaway regions-- but not inside these regions.