The World Trade Organization finalizes an "agreement" for Georgia and Russia
By Ernest Petrosyan
Wednesday, November 2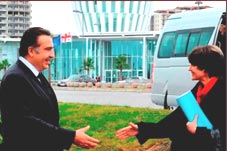 Swiss President Micheline Calmey-Rey held a meeting with President Saakashvili in Batumi on October 31. The sides came to agreement that monitoring on the Psou and Roki borders will be implemented by the Swiss. According to Manana Manjgaladze, the President's spokeswoman, the text of the agreement has not been changed. She also noted that Russia is still considering Swiss proposal.
The US Department of State made a comment regarding the progress achieved in Russian-Georgian talks on WTO accession. According to Victoria Nuland, spokeswoman for the United States Department of State, the US supports Switzerland's efforts to negotiate a solution between Russia and Georgia.
"We have been supportive of the Swiss efforts to negotiate a solution between Russia and Georgia, two customs and border issues that arise in the context of Russia's desire to have Georgia's support for its WTO membership. We obviously support Russia's membership in WTO," said Nuland.
The final meeting on Russia's accession will be held at the World Trade Organization in Geneva on 10-11 November. A video conference was held yesterday at the Ria Novosti Tbilisi office on Russia's WTO entry so that Tbilisi and Moscow could discuss "Russia's accession to WTO: advantages and disadvantages for Georgia and Russia".
Debating the issue were an expert in economic affairs, Demur Giorgkhelidze, member of the faction Fair Georgia; Member of Parliament Petre Mamradze; leader of Free Georgia, Kakha Kukava; and President of Erekle II Foundation Archil Chkoidze who represented the Georgian side. For the Russian side the following took part: General Director of a Russian Political Center, Sergey Mikheev; Director of the Information Bureau for Russia's accession to WTO, Aleksey Portankiy; and General Director of Post-Soviet Studies, Aleksandr Karavaev.
According to Aleksey Portanskiy, WTO is an apolitical organization and there are countries which do not have bilateral relations that nonetheless cooperate within WTO. "I do hope that Russia's WTO accession issue in December will finally be positively resolved for Russia and even in the absence of diplomatic ties, that trade relations will be normalized", said Portanskiy.