Georgia's Strategic Plan Under Wide Discussion
By Salome Modebadze
Wednesday, November 2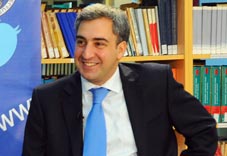 The Government continues public discussions of the 10-Point Strategic Plan for 2011-2015. Sharing the details of the governmental document with business sector, Prime Minister Nika Gilauri held a conference at Radisson Hotel on Tuesday. The event, organized by the Trade-Industrial Chamber of Georgia, was attended by business representatives. Kakha Baindurashvili, President of the Trade-Industrial Chamber, emphasized that 7 of the 10 points of the strategy refer to the business sector and stressed that such discussions over the government plan would be beneficial for economic prosperity.
Dimitri Gvindadze, Minister of Finance stated that the Government should create preconditions for developing the private sector and keep a constant dialogue with this sector to preserve economic dynamism. Emphasizing the high rate of economic growth in Georgia, Gvindadze stressed that our country has managed to keep 100% fiscal strength despite all obstacles.
The 10-Point document for modernization includes: macroeconomic stability; creation/preservation of best investment and business environment; development of Georgia as the regional and logistical centre; improvement of infrastructure and other social issues. All 10 points of the strategic plan aim to create jobs, according to government.
As the Prime Minister mentioned before, the document discusses brief steps to reduce unemployment by attracting more investors and put more money into implementing new projects. This document will be renewed every six months and will consider the remarks and recommendations from all sectors of society. Paata Kurtanidze, founder of ALFA insurance company said that the 10 points discussed in the strategy would be an important encouragement for business development and employment of people in Georgia.
Vano Mtvralishvili the Chairman of the Union of Importers, Producers and Consumers of Oil Products also welcomed the introduction of the governmental plan as important for private sector, especially during the recession in the world market. "State support will be crucial for attracting investors and investing funds in the right way," Mtvralishvili stated.
Manana Manjgaladze, spokesperson for President Mikheil Saakashvili, stated that the government would actively continue working on the 10-point strategic plan. The socio-economic policy of the government is meant to bring wealth and prosperity to Georgia and to provide individual citizens with housing so they can become successful members of society.
On the same day, the youth wing of the Christian-Democratic Movement (CDM) protested against the governmental strategy in front of the Government offices. Accusing the Government of making an "incomplete" strategy, the leader, Giorgi Papelashvili, stressed that the 10-point strategy doesn't consider the interests or problems of youth, nor does it address the occupied territories. He also wondered why the government didn't include any points on improving the judicial system.