Cheese produced in Akhmeta through a new partnership project
By Etuna Tsotniashvili
Thursday, November 3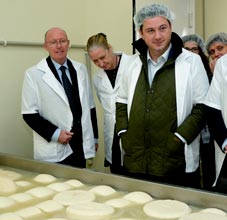 On November 1, a new cheese factory—Delamo--opened in Akhmeta, in the Kakheti region. Representatives of United Nations, the Georgian Government, the Kakheti Governor's office and the Akhmeta municipality attended the event. The plant was financed by the United Nations Development Programme (UNDP) with funding from the United Nations High Commissioner on Refugees (UNHCR) and the Swiss Agency for Development and Cooperation (SDC).
The small factory provides up-to-date technology for processing milk to make the well-known Georgian cheeses sulguni, tushuri and ghuda. The lab is well-equipped and standardised production ensures quality control throughout the production cycle – from the dairy farms to the finished product.
"What we are providing here is not something we invented for them--the local community wanted this and the demand came from them. We did a survey in the community and talked with farmers and local people to see what they wanted and how they could better exploit the agricultural opportunities here. I believe we have provided them the opportunity to do this," Jamie McGoldrick, Resident Representative of UNDP told The Messenger.
Simone Wolken, Representative of the United National High Commissioner for Refugees, UNHCR, explained their role in this project. There were formerly 8000 refugees from the Federation of Russia, of Chechnyan origin, living in Georgia's Pankisi Valley. Now the number is much lower and many of them took Georgian citizenship. However there are still Chechyan members of this community, thus the participation of UNHCR. "This business will give these persons an opportunity to contribute to the development of Georgia, and that is what we want. That is what our development and donor partners want, so let us hope that it will work as beautifully as it looks now," she added.
"This project is an outstanding example of humanitarian aid, helping refugees to integrate and move from a humanitarian phase to a development phase," said Rudolf Schoch, the Swiss Development Cooperation Regional Director. He highlighted the collaboration between all actors—beginning with the Georgian Government to the different donor agencies.
Archil Kekelia, Deputy Minister of Economy and Sustainable Development expressed his gratitude for the project and said that the Georgian Government takes very active steps to develop the agricultural sector, and that such projects support regional development. "A number of factors are important: The first is that it represents agricultural entrepreneurship where about one ton of milk is processed per day to make cheese. Secondly this project helps local persons to attend training and get information on dairy products. The third reason is that Georgia is a country where small and medium size businesses are leading the way, so we should put an accent on their development" the Deputy Minister stated.
The Governor of Kakheti, Giorgi Ghviniashvili thanked all organisations which contributed to the project and emphasised that where this factory has been created there is potential for producing milk for sale, as in Akhmeta region raising cattle is a principle activity. He also said that the factory brought together local professionals and employed local people, which will improve the economy of the region.
Levan Butkhuzashvili, Delamo Technician, worked for seven years in the USA in a small enterprise and milk factory where he gained experience with cheese making and milk processing. "When I returned to Georgia I heard that the UN was preparing this project in my region, so I decided to apply for it. I was hired and began working last summer. I am very satisfied working here and with those who have participated in this project. We produce high quality products and distribute mainly to Tbilisi's markets. I can assure you that safety standards are very high. Since I am very satisfied and happy to work here I will not have to go abroad to work," Butkhuzashvili told
The Messenger
.
A Delamo employee, Tamila Gvelesiani, works to make cheese in the factory. "Before working here I took a certified two month training course to learn the techniques and special features related to milk processing and cheese making. I always had an interest in the agricultural sphere and UNDP gave me this opportunity to get a job in Akhmeta where I was born and grew up," she said.
The factory provides excellent learning opportunities and practical experience to students of vocational courses in agriculture and food processing. Certified cheese-makers employed at the plant were trained through professional education courses in Akhmeta.
This initiative is based on other successful UNDP experiences in Kachreti and Gori where food processing plants partner with professional colleges. UNDP's assistance in Akhmeta is part of a larger programme to boost the social and economic development of the Pankisi Valley. In cooperation with UNHCR, UNDP works to promote vocational education and agriculture, rehabilitate infrastructures and assist local governance.