Arriving at the Finish Line, Georgia and Russia come to a WTO compromise agreement
By Ernest Petrosyan
Friday, November 4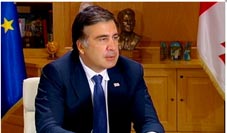 Moscow and Tbilisi have finally achieved an agreement over Russia's accession to the World Trade Organization after and eight-day timeout taken by Moscow to consider the Swiss-brokered proposal. Head of the Russian delegation, Maxim Medvedkov, said a draft agreement is already ready. "We are glad that an agreement has been achieved between us." Medvedkov told Interfax on October 3.
Georgian President Mikheil Saakashvili assessed the negotiations on Russia's WTO accession when he met the representatives of the Georgian delegation - Deputy Foreign Minister Sergi Kapanadze, and Chief Advisor of Prime Minister of Georgia, Tamar Kovziridze. Saakashvili emphasized the content of the document and importance of the proposal made by the Georgian team as being close to Georgian interests and international law for the last 18 years.
"We have had a problem with controlling goods at the borders for 17-18 years. Since the most recent Russian aggression this problem became more complicated. Now international observers will control goods moving over borders, due to your efforts and hard negotiations. I want to thank you for the very difficult and thorough work you have done in this negotiating process," Saakashvili told the Georgian negotiators.
"I hope that all this will come to its logical end soon. Just a few days are left till the final decision. I want to thank my Swiss partners too. Now it is Russia's turn. I think through the whole process we acted in compliance with national interests and international law. It is our final aim," Saakashvili added.
As Kapanadze stated yesterday morning before his departure to Geneva, all issues related to Russia's WTO accession should be solved before November 10.
"According to the Russian media, the Russian negotiators have accepted the Swiss proposal that was accepted by Georgia last week. If this is true, it means the Russian side accepts the creation of a mechanism to monitor all goods at the Georgia-Russia border. Monitoring implies the deployment of international monitors at the beginning and at the end of trade corridors, as well as the use of an electronic information exchange system," said Kapanadze.
He added that after Russia officially confirms its acceptance of the Swiss proposal at the meeting in Geneva, only procedural issues will be left for Russia's WTO membership, such as signature, documents, etc. All this must be completed before November 10," said Deputy Foreign Minister.
As economic analyst Emzar Jgerenaia told journalists the most positive aspect in the agreement from the Georgian point of view is that an unreliable "partner" will be placed in a civilized framework. According to him, the Georgians' principle to have border controls was the most pragmatic and correct demand. "This agreement unequivocally implies that Georgia will continue to claim its territories, and that these claims are partially recognized by Russia," said Jgerenaia, adding that Russia will have to obey WTO standards and regulations as other member states do.
The political analyst and former Georgian Ambassador to Moscow, Zurab Abashidze, said that the talks between the countries had come to a pragmatic conclusion,"...with results for both sides. Georgia will have a border control and information, and Russia becomes a member of the organization," said Abashidze.
Georgia was the only country which was, until recently, opposing Russia's WTO membership, and the country set some economic pre-conditions as well. As Georgia's Deputy Foreign Minister Tornike Gordadze said, the compromise "enables international monitoring of all cargo entering internationally recognized borders of Georgia and Russia." The final round of negotiations is scheduled for 10-11 November when 153 countries will discuss Russia's accession at the Ministerial meeting on 15 December, where it will finally be admitted to the organization.