Establishing confidence in the Georgian judicial sector
By Gvantsa Gabekhadze
Friday, November 4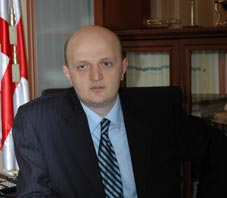 Judicial reforms and trust towards the judicial sector are currently some of the most important issues being debated. The subject was discussed by Kote Kublashvili, Chair of Supreme Court, on November 3 as he presented the results of polls "carried out with international standards by the Supreme Court". He said the outcome was hopeful.
"Trust towards the Court has increased to 72 %," Kublashvili said. In eight city and regional courts 2765 persons were questioned. All people who came to court were questioned according to the sector concerned: administrative, criminal or municipal law.
"According to the poll, 72% trust the judicial system while 14 % do not. As for criminal law issues, the result is quite positive: 55% trust the system and 17% partially do so."
The outcomes seem enough for Kublashvili to state that the Judicial Reforms launched in 2005, are continuing successfully. "Trust towards the judicial system is increasing due to reforms in the system and our aim is to increase the trust more. We are expecting that after the new Jury system comes into force next year and a new process for criminal procedures is adopted, trust will increase even more."
Hopes that Georgia is improving the judicial system are shared by all the Government representatives, according to Kublashvili. They believe that the judiciary is very transparent and free from the pressure and injustices of the former government.
The Georgian opposition and most NGOs, however, are far from such positive assessments. They frequently point out the "extremely bad situation in the judicial system" and underline that with its present judicial system Georgia cannot become a member of certain international legal organizations.
The current authorities have been pushing Georgia to join NATO and the European Union (EU), but Kakha Kozhoridze, the Director of Legal Aid at the Georgian Young Lawyers Association (GYLA), said the plea bargain system and the tiny acquittal rate for defendants is a potential hindrance to these aspirations. Kozhoridze said that if an individual is fighting a case that involves a state company or a well-known and well-connected person, it is virtually impossible to win. "There should be significant state interest in why people lose in court. Everybody from NATO, the EU and other international organizations suggest that if Georgia wants to achieve its goals then it must have an independent, impartial judiciary."
Analyst Ramaz Sakvarelidze, told
The Messenger
that the current authorities are ignoring one of the main demands of the international community regarding judicial reforms. "The current authorities do not want to lose major levers. Judicial reform is not in the interest of the government and I do not expect concrete changes in this field from the ruling team."